Luxury apartments have grown in popularity in recent years, and for good reason. These apartments provide a variety of amenities and high-end features that distinguish them from traditional apartments. However, before you rent your first luxurious apartment, there are a few things you should think about. In this article, we'll go over some of the most important things to consider when renting your first luxurious apartment.
Think about your budget
Your budget is one of the most important factors to consider when renting a luxurious apartment. Luxury apartments are generally more expensive than traditional apartments, so make sure you can afford the rent as well as any additional fees that may apply. You should also consider the cost of utilities, parking, and any other amenities you may want to use. You should also think about the cost of furnishing your new apartment if it isn't already furnished. Keep in mind that, while a luxury apartment may appear to be a good investment, you don't want to be financially stretched too thin – you need to comfortably afford the rent.
Consider the location
The location is another important factor to consider when renting a luxurious apartment. Do you want to be in the heart of the city, or do you prefer a more quiet, suburban setting? Do you need to be close to work, or do you prefer to be close to shopping, dining, and entertainment options? If you're looking for Tampa luxury apartments, for example, you should carefully consider the location to ensure it meets your requirements. Furthermore, if you are interested in luxury Florida real estate, you should conduct research to find the best location for your lifestyle. Remember that the location of your apartment can have a significant impact on your daily life.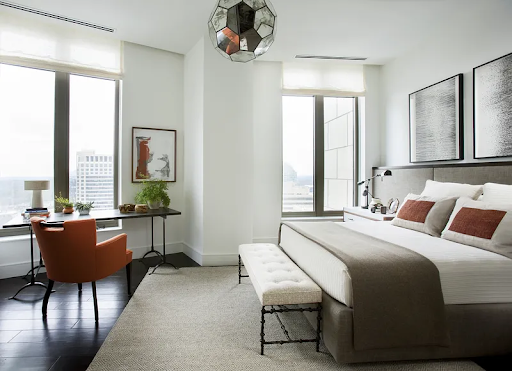 Assess the available amenities
Luxury apartments are known for their amenities, so think about which ones are important to you. Is a pool, a gym, or a rooftop terrace required? Do you want a concierge, package delivery, or pet services? If you work from home, for instance, you may want to prioritize a quiet workspace or a business center. If you have pets, make sure the apartment has pet-friendly amenities such as a dog park or grooming station. Make a list of your requirements to ensure that you find an apartment that meets all of your needs. Keep in mind that some amenities may have an additional cost, so factor that into your budget.
Look at the size and layout
When it comes to luxury apartments, size and layout are important considerations. Consider how much space you require and what type of layout will work best for your lifestyle. Do you require a one- or two-bedroom apartment? Do you prefer an open floor plan or a more traditional layout? You should also consider the amount of storage space available in each apartment, as well as any outdoor space, such as balconies or patios. Similarly, if you have a lot of possessions or collectibles, make sure the apartment has enough storage space. Take your time to explore different options to find an apartment that fits your current and future needs.
Check the property manager's reputation
Before renting a luxurious apartment, consider the property management company's reputation. Look for online reviews and, if possible, speak with current residents. You should ensure that the property is well-maintained and that any issues are addressed as soon as possible. You'll also want to make certain that the property management company is responsive and easy to work with. Additionally, check with the Better Business Bureau and other online review sites to get a sense of the company's reputation in the community. Renting a luxurious apartment can be a wonderful experience, but it's important to work with a reputable company that you can trust.
Consider the lease agreement
Before signing any lease agreement, make sure you read it thoroughly and understand all of the terms and conditions. Examine the agreement for any hidden fees, penalties, or restrictions that may be included. Some luxury apartments may have strict guest, noise, and pet policies. Check that the lease agreement corresponds to your lifestyle and preferences. If you have any questions or concerns about the contract, please contact the property management company or seek legal counsel. Remember that the lease agreement is a legally binding document, and any violations will hold you accountable. You can avoid surprises and make an informed decision about your luxurious apartment by carefully reviewing and understanding the lease agreement.
Renting your first luxurious apartment can be an exciting experience, but it is critical to consider all of the factors involved. Assess your budget, the location, the amenities, the size and layout, and the property management company's reputation. You can find a luxurious apartment that meets all of your needs and exceeds your expectations if you take the right approach.