Investors have a powerful new AI tool to find winning stocks using pattern recognition, thanks to Tickeron's Pattern Search Engine (PSE). This sophisticated tool signals when to make investing decisions based on end-of-day price information, utilizing AI to analyze 39 different types of patterns to maximize investing success.
Trading patterns are among the more sophisticated investing strategies, leveraging consumer psychology alongside historical data to draw conclusions on when to buy or sell. Previously, investors would have to track and analyze this information manually, spending countless hours in a process prone to error.
Now, with Tickeron's PSE tool, users let the AI scan thousands of stocks, penny stocks, ETFs, cryptocurrencies, and Forex charts to find patterns and deliver market insights. Best of all, Tickeron's tool goes above and beyond the competition by offering backtesting, letting a user see how a past pattern trading investment would have turned out. 
How PSE Works
First, the AI scans about 5000 securities and ETFs, looking to detect any one
of 37 pattern types. The AI identifies patterns by their key geometrical elements, formed by changing security prices when plotted on a chart. 
For example, a Cup-and-Holder pattern (see image below) is identified when there are three points forming the cup (left edge, bottom of the cup, and the right edge), with a security's price gradually falling then rising from left to right. An additional move to the downside defines the handle of the cup (point 3 to 4), with prices eventually breaking upwards to create the "holder."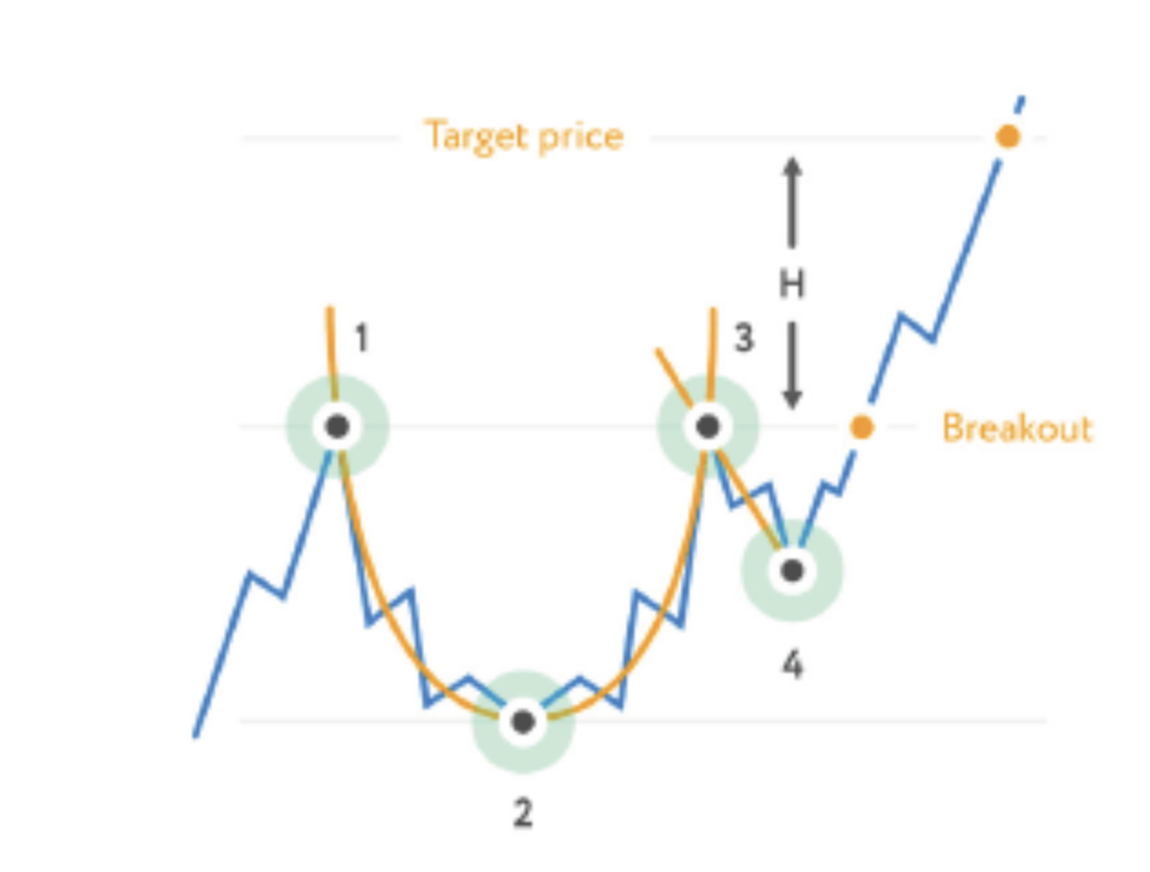 The Geometric Elements of a Cup-and-Holder Pattern
PSE has the ability to identify 37 different pattern types, all of which are subjected to several million combinations of searches and backtests overnight. These results are ready to be viewed the next business day.
After scanning, the AI backtests all detected patterns, presenting statistics to show the investor what would have happened if he/she traded these patterns when they occurred in the past, which creates the 'probability of success' for each trade. The automated analysis performed daily by the AI, saving investors the massive amount of time necessary to identify these patterns and backtest them manually. It does not appear that other services do this through backtesting analysis. 
Finally, PSE provides investors with the "breakout price" for the security within the pattern, which tells the investors where a trade can be initiated. The AI also provides the "target price" where the investor can potentially cash-in. 
The Power of Pattern Search
Stock trading patterns represent the psychology of market participants. By recognizing patterns, investors aim to predict the upcoming direction of a stock's price and invest accordingly.
While some patterns are simple, many others require a well-trained eye and hours of research to assess. Tickeron's PSE utilizes AI to scan markets for patterns users select, removing the stress and difficulty from this trading strategy.
Once the AI identifies a selected pattern, PSE will provide breakout prices, predicted target prices, level of confidence, and other valuable data that will help the user make investing decisions. Users simply have to set the criteria (stocks, ETFs, Forex, etc.), the types of patterns they want to search for, and the lowest confidence level they'll accept. From there, the AI does all the work and delivers results straight to the user's inbox.
Tickeron's PSE is highly customizable, with filters for price range, asset class, confidence level, and more. The AI will generate fewer pattern trading ideas the more filters are used, which allows investors to hone in on their trading strategy if they so choose. 
"We wanted to create a tool that worked for investors at all experience levels," explains Sergey Savastiouk, founder at Tickeron. "If you're new to pattern trading then you can set minimum criteria and let the AI handle all the heavy lifting. Or you can set more specific criteria to filter results, leaving you with only the stocks and assets that fit your expectations. It's really a tool that serves all audiences and we couldn't be more proud to help support investing success."
Experienced pattern traders can jump right in and begin searching thousands of stocks and other securities for their chosen patterns. Users who are new to pattern trading have everything they need to learn and grow their portfolio. PSE includes detailed explanations of each trading pattern as well as historical data and adjustable confidence levels for effective investing.
Pattern Trading Access For All
It's an ideal time for investors to start using Tickeron's PSE. WIth economic policy uncertainty near its highest point since 2020, investors will welcome a tool that saves hours of time in identifying trading patterns across thousands of stocks and other securities.
Tickeron has made it simple for users by allowing them to receive alerts via email, Facebook, or push notifications. Investors can customize their settings once and let PSE send them alerts each day, or they can adjust and readjust each setting as they fit for a wider variety of stocks and patterns.
"We've incorporated a great deal of user feedback into our PSE," says Savastiouk. "Whether you're looking for bearish or bullish patterns, PSE is designed to help you find exactly what you're searching for, far faster than anyone could do manually. We've taken a process that used to take weeks and reduced the time to seconds with the power of AI. That's something we're very proud of with this new tool."
Users can try Tickeron's AI Pattern Search Engine for free with a 14-day trial, or subscribe for $30 per month. Alternatively, users can get the tool for free by subscribing to Tickeron's AI Robots and using the included credits to purchase PSE.
"Pattern trading is very nuanced. With our PSE, traders get everything they need—from confidence levels to breakout prices to historical data analysis—right at their fingertips," Savastiouk explains. "It's simply a standout product in the pattern trading arena, and one investors will find very useful in the years to come."