Tiger poaching in India is totally out of control, with more animals killed by poachers during the first four months of this year than during the whole of 2015. If urgent measures are not taken soon, it will not be long before tigers in India become extinct in the wild, says a conservation charity. All the recent progress would have been for nothing.
The Wildlife Protection Society of India reported on Friday that twenty-eight tigers were killed by poachers between 1st January and 26th April this year, which is three more than during all the 12 months of last year.
Tiger bones and meat are used extensively in traditional Chinese medicine, and poachers can sell them for very high prices.
Illegal tiger trade in body parts is a huge industry in India, and occurs across most of the country. (Image: wpsi-india.org)
Tito Joseph, Programme Manager for the Wildlife Protection Society of India said:
"The stats are worrying indeed. Poaching can only be stopped when we have coordinated, intelligence-led enforcement operations, because citizens of many countries are involved in illegal wildlife trade. It's a transnational organised crime."
Organised crime refers to powerful criminal groups that work together on a large scale.
Poachers catch tigers in a variety of ways, including electrocution, steel traps, guns and poison.
There are currently an estimated 2,226 wild tigers in India, where more than half the global wild population lives, according to the last worldwide census.
This latest figure for India, is in fact good news, considering that in 2006 there were just 1,411 individual wild tigers in the country.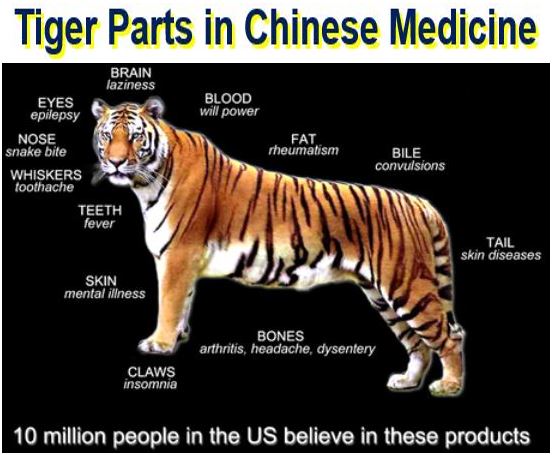 How many people in China believe in these products? Probably hundreds of millions. The best way to kill a market is focus on the demand – when demand vanishes, so does the market. Perhaps, tiger conservationists should concentrate on proving that these tiger parts are no better than a placebo in treating or curing illnesses. (Image: tigerpopulation.weebly.com)
The Wildlife Protection Society of India (WPSI) wrote on its website regarding this increase in numbers since 2006:
"It is a matter of tremendous pride, that a country like India-with its booming population, high population density, grinding poverty, a consumptive middle class and imperative to develop, harbours the maximum – about 60 per cent of the world's wild tigers."
"But along the way, we got so enamoured by the '2,226' aura, we believe that 'all is well with the tiger'."
---
---
An 'obstacle' to India's development?
The WPSI warns that even though India helped tigers bounce back, an achievement that has given the country a position of leadership in the big cat's conservation – political will and a commitment to protect its last remaining habitat appear to be at an alarmingly all-time low.
Several figures in positions of power and authority have even pitched the tiger as a 'hurdle' in the nation's development.
WPSI wrote:
"As per reports, even the country's Supreme Court observed on January 20 that "conservation of tigers was important but could not be at the cost of general economic development of the country," in context of expansion of a highway through a vital tiger corridor."
Tito Joseph says that India's Forest Department and the Special Task Force need more help in combating tiger poaching.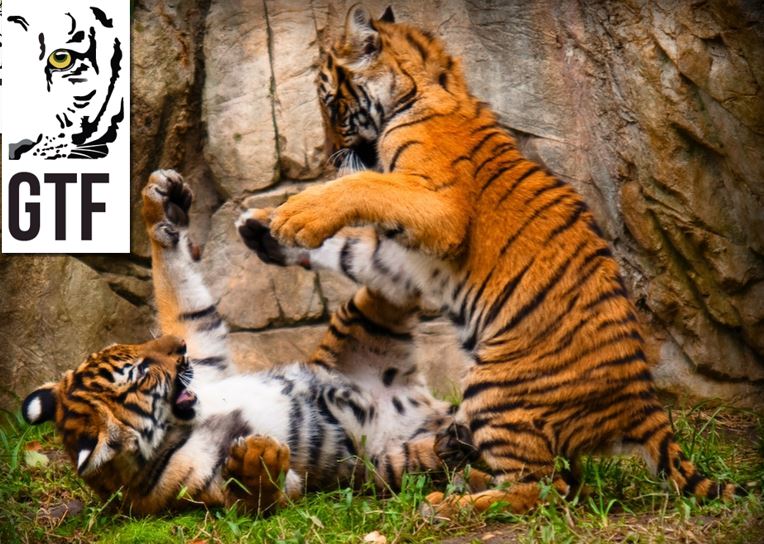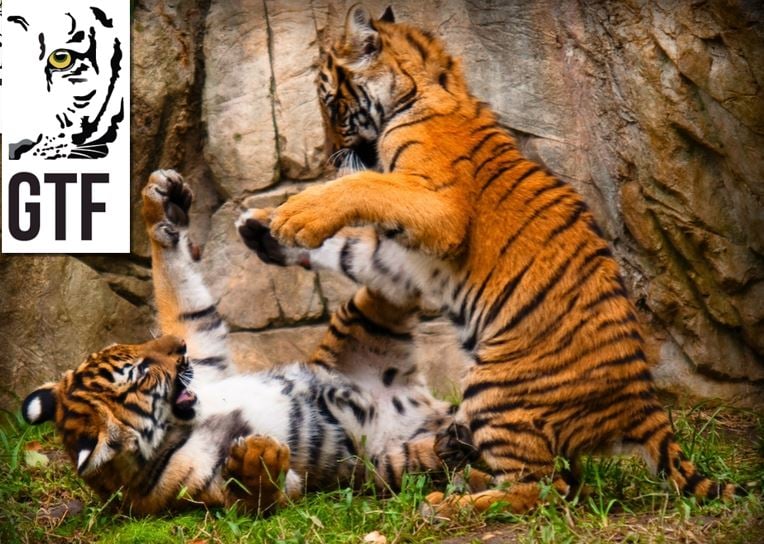 According to the World Wildlife Fund: "This big cat is both admired and feared by people around the world. If forests are emptied of every last tiger, all that will remain are distant legends and zoo sightings." (Image: globaltigerforum.com)
"While the police has gained expertise in dealing with such cases, the forest department hasn't. The department has somehow confined itself to forestry and conservation works. Wildlife protection is equally important. Forest department staff must be trained to deal with this issue."
Signs of hope for global tiger population
Earlier this month, the World Wildlife Fund and the Global Tiger Forum reported that the global tiger population has increased considerably since 2010, rising to 3,890 individuals today, from 3,200 in 2010 – an increase of more than 20%.
This is promising news after this iconic animal's population plunged by more than 97% during the last century. At the end of the 20th century the tiger's future looked bleak.
In the year 1901, there were more than 100,000 wild tigers across the world. By the end of that century (2000) the number had tragically dropped to just over 3,000.
After gathering and analyzing data from national tiger surveys, the report showed that the recent increase was due to rising tiger populations in Bhutan, India, Russia and Nepal.
Despite the recent global population increase, the tiger is still classified as 'Endangered'. It faces daily hazards that could easily push it to extinction within a couple of decades. Its main survival threats include habitat loss and poaching.
The illegal tiger trade, which feeds a multi-billion dollar criminal network, sells every part of the tiger, from whisker to tail.
Encouraging news from another study
In another study, published in the journal Science Advances at the beginning of April, a team of scientists from the Wildlife Solutions Program, the Smithsonian Conservation Biology Institute, the World Resources Institute, the University of Maryland, and Stanford University, reported that there is a good chance of doubling the global wild tiger population by 2022.
The researchers used a new satellite-based monitoring system to analyse fourteen years' worth of forest loss data within seventy-six different landscapes that have been chosen for wild tiger conservation.
Forest loss across these landscapes between 2011 and 2014 was much less than they had expected.
Within a subset of 29 landscapes which the researchers said are crucial for doubling the wild tiger population, nineteen showed little change, while ten accounted for most (98%) of the habitat loss.
We all love tigers, and so have many poets throughout history – it is one of the most iconic animals on Earth. However, the species needs more than just admiration from us – it needs our help. While we are mostly to blame for its bad fortune over the past 100 years, we are also the only ones who can offer it hope for the future.
Video – Confessions of a tiger poacher
As this World Wildlife Fund video explains, poaching and the illegal wildlife trade are among the greatest threats to the tiger's survival. Conservation organisations are working with former poachers and local authorities to stop the poaching and save the species.