British astronaut Tim Peake is to stay 13 days longer in space aboard the International Space Station (ISS) orbiting Earth, the European Space Station (ESA) announced today. The space agency says ground control does not want to leave the station manned by just 3 astronauts for too long.
Chichester-born Major Peake, a current European Space Agency astronaut and ISS crew member since 15th December 2015, was due to come back to Earth on 5th June. His return has been postponed to 18th June.
Ground control is keeping Major Peake, Russian Commander Yuri Malenchenko, and American Colonel Tim Kopra aboard the ISS as they await a changeover crew to make sure the station is fully manned by six astronauts for as long as possible.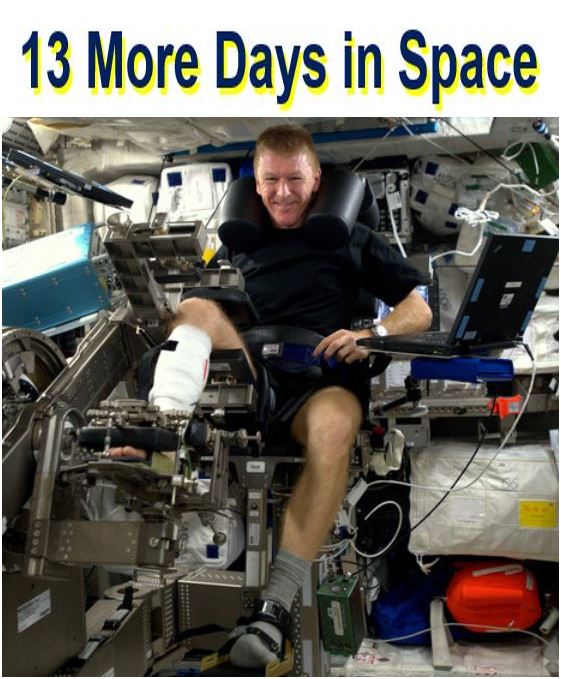 Major Peake using ESA's MARES muscle measurement machine on the ISS. He shared this image with the following comment: "No, not testing a new rollercoaster ride – research into muscle atrophy and how this may help patient rehabilitation on Earth". (Image: esa.int)
Keeping ISS fully manned as long as possible
The new crew members will not be lifting off from Earth until 21 June.
Each ISS team flies as a trio to the outpost and back to Earth in a Soyuz spacecraft. Approximately, once every three months, three crew members return to Earth a couple of days before a new one arrives, often leaving the ISS with just three astronauts on board looking after everything.
---
---
Regarding his time in space, Makor Peake said:
"Although I am looking forward to being back on Earth and seeing friends and family again, each day spent living in space is a huge privilege and there is much work to do on the Station."
"This extension will keep the Station at a full crew of six for several days longer, enabling us to accomplish more scientific research. And, of course, I get to enjoy the beautiful view of planet Earth for a little while longer!"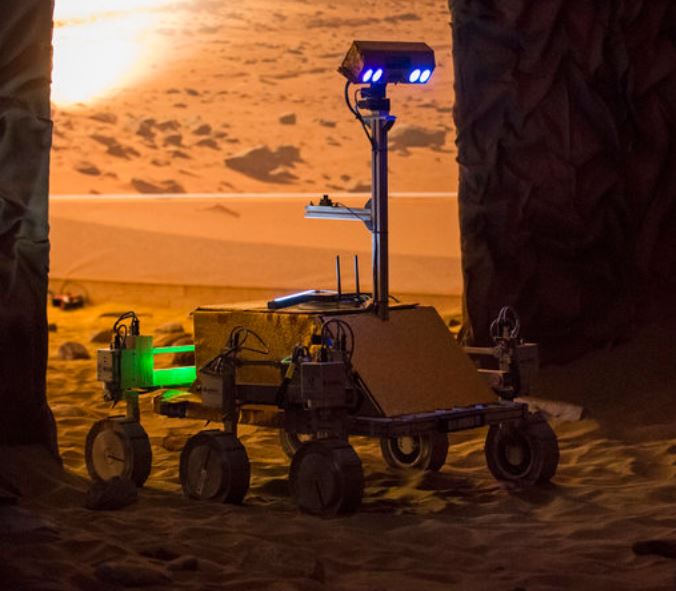 Major Peake controlled a rover called Bridget in the UK from orbit aboard the ISS as part of ESA's METERON umbrella project that is preparing for future human-robotic missions to the Moon, Mars, and other celestial objects in our Solar System. (Image: esa.int)
Major Peake's busy timetable
As three supply vessels have arrived recently, the current ISS crew members will be kept busy. Major Peake released the first Filipino satellite into space from Japan's Kibo laboratory last Wednesday.
He also operated a rover called 'Bridget' in Stevenage, Hertfordshire in England from space as he flew 400 km above the Earth. The 154-kg rover was driven remotely by Major Peakes over simulated Mars terrain (Mars Yard) in Stevenage, as though he were searching for specific scientific targets such as rocks on the Red Planet.
---
---
The Mars Yard measures 30 x 13 metres. It is split into two areas – dark and lit – to simulate the rover inside a cave or shadowed crater.
The Bridget rover was designed and created by aerospace company Airbus DS, which is working with ESA and the UK Space Agency to investigate controlling robots on simulated planets.
Major Peake was connected via video and data links to the rover using a complex 'delay-tolerant' network, a type of 'Internet in Space'. This 'Internet in Space' was also being tested.
The ISS' incubators are currently experimenting with growing blood vessels in microgravity from cell cultures that line the interior of our veins and arteries.
The MARES muscle-measurement device
Recently, Major Tim became the second European Space Agency (ESA) astronaut to use the MARES muscle-measurement unit that charts his fine motor control, as well as providing a detailed overview of his muscle torque and speed.
We don't get much information by looking at a muscle contraction at a specific moment. However, MARES (Muscle Atrophy Research and Exercise System) provides a full picture of muscle speed and force as a knee or elbow joint bends.
While in a weightless environment, astronauts gradually lose muscle mass and bone density. They have to complete up to two hours' worth of exercises each day to minimize this loss and remain fit and healthy. Despite this exercise regime, they still lose bone density and muscle mass.
Ground control tries to give them a free day on Sunday – but their exercise regime continues.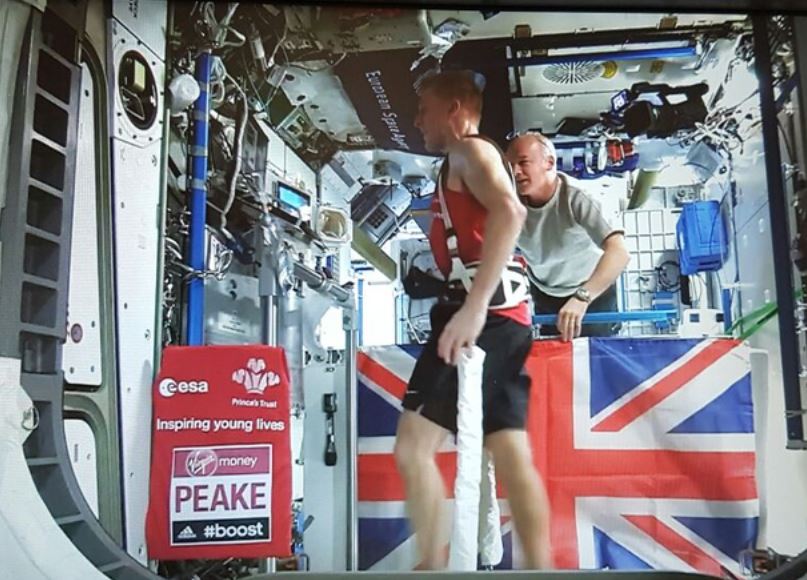 Tim Peake ran the Virgin Money London Marathon last Sunday while tethered to a treadmill in space aboard the ISS 400 kilometres (248 miles) above the Earth's surface. He took long-distance race literally out of this world. (Image: esa.int)
Peake ran in London Marathon
Last Sunday, Major Peake took part in the London Marathon, running on a treadmill in space and following the route on a monitor.
Even though he was a long way from London, he ran at the same time as the 37,000 other runners on Earth. He took just over 3.5 hours to complete the 26.2 mile (42 km) run. During his marathon, the ISS travelled 62,137 miles (100,000 km).
Unlike the other runners on the ground, Major Peake wore a harness which was tethered to his running machine. If he had tried to do the race with no tether he would have simply floated into the air after his first step.
He had been preparing for the long-run for the past seven years, ever since he was selected – along with six candidates out of 8,413 applicants – for the European Space Agency's astronaut training programme.
Regarding his dream to participate in the London Marathon from space, Major Peake said:
"As soon as I got assigned to my mission to the ISS, I thought, 'Wouldn't it be great to run the Digital Virgin Money London Marathon from onboard the ISS?'. The London Marathon is a worldwide event. Let's take it out of this world."
"I ran the London Marathon in 1999 and loved every minute of it. I was blown away by the energy and the enthusiasm of everyone involved, so when I heard that I'd be going to the ISS in December 2015 I asked the medical team if I could run the 2016 London Marathon in space on the same day that everyone will run it on Earth. I was thrilled when they said yes; I'm sure it will be one of the highlights of my mission."
On 18th June, Major Peake will land in the steppe of Kazakhstan. He will be taken to the European Astronaut Centre in Cologne, Germany, for medical checkups and research into how astronauts adapt to living in the weightless environment of space.
Video – Major Peake drives Rover Bridget from Space
This video shows how Major Peake remotely drove the Mars Rover 'Bridget' on the Mars Yard Test Area in Stevenage, England.