Research published in The American Journal of Psychiatry found that as little as 60 minutes of exercise a week can help combat depression and other mental disorders. And yes, you must be well aware of the multitude of benefits that arrive with regular workouts, but what do you do when you hit an unexpected slack?
How do you keep yourself motivated to train, eat healthy, consistently maintain your supplement protocol, all of which complement your fitness lifestyle, when the workout blues hit you? It happens to the best of us. But don't worry. I've got your back. It's time to spice your fitness lifestyle up a little! Try some of the tried and tested ways mentioned below to get back into your fitness regime.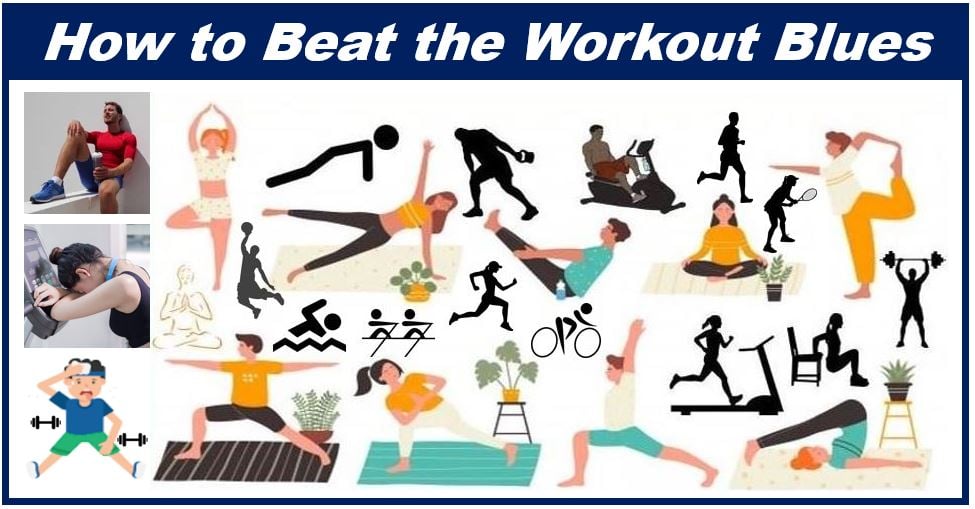 6 Ways to Beat the Workout Blues
Discover a purpose
Setting a goal or purpose will help establish a proper framework for your workout time. What does exercise mean to you? Are you trying to lose weight, improve your self-esteem, sculpt your physique or improve your health and fitness? When you set some achievable and measurable goals, it becomes easier to stay on track, eyeing to fulfil them. Your purpose will act as a consistent reminder to look up to whenever you find yourself losing motivation.
Pre-plan workouts
Getting out of bed and into your training gear will not seem like a daunting task if you know what you will be doing precisely. Pre-planning your daily or weekly routine to the T is similar to meal prepping. You will be able to arrange for all the necessary home gym equipment beforehand. Writing down the workout plan will also help keep a record of specific workouts performed for an entire week. That way, you will enter the gym with a clear idea and save time.
Say yes to new challenges
Imagine announcing to your friends and family about a fitness competition or event you plan to participate in. It could be a 30-day yoga challenge, a half-marathon, or an 8-week fitter body event at your local gym. Such challenges will push you to remain accountable and persuade you to keep going because you will want to prove your word to everyone. You will be less likely to slack off when you promise to see such dares through their entirety and focus solely on that.
Change your environment
Exercising on the same machines within the same space at the gym day in and day out can be particularly monotonous. Think about investing in Home Gym Equipment to induce a fun change in your surroundings. You will be in charge of your workout space layout, the music and wear whichever workout clothes you find comfortable. You can even try going outdoors for some pleasant scenery and fresh air. A suitable workout-friendly change of scenery will incentivize you to keep heading towards your fitness goals.
Try group/buddy workouts
Research has shown that 95 per cent of those who started a weight-loss program with friends finished it. No amount of self-talk can possibly fire the enthusiasm that comes when you train with your favourite partner! Buddy workouts ensure consistency because of the guilt-inducing pressure of relying on each other to turn up. When you have the right people to achieve your fitness goals with, working out will not seem like a chore. It will become an awaited and fun social event to exercise in a motivational pack.
Take a Break
Overtraining is a real thing and can lead to sudden loss of workout motivation and even injuries in some cases. When you know you have been going overboard with your training, listen to your body and acknowledge taking a step back to relax. Maybe you need the time away from the gym to rejuvenate and re-energize. Your injuries will start to heal, and your central nervous system and digestive system will ease up from constantly keeping up with your supplements and training. You will be able to regain some mental clarity and begin again with new zeal. A nice break could lead to the reinvention of your love for working out!
Learn not to beat yourself up when the workout motivation takes a back seat. Yes, there might be days you don't feel like showing up for the health and fitness of your body. Do it anyway! Showing up is the first step to beating those inevitable workout blues. Follow it up with what you learned here, and you will rekindle your romance with exercising.
Author Bio – Sancket Kamdar
Sancket Kamdar, a certified weightlifting coach, and a successful entrepreneur founded SF HealthTech with a single goal in mind – to bring high quality, international standard exercise equipment to help fitness enthusiasts and athletes reach the next level of fitness. When he's not working on new equipment ideas and designs, he loves to create educational content about health, fitness, nutrition, and wellness. He also writes to help budding entrepreneurs on running and growing a business, based on his experience.
---
Interesting related article: "What is Motivation?"