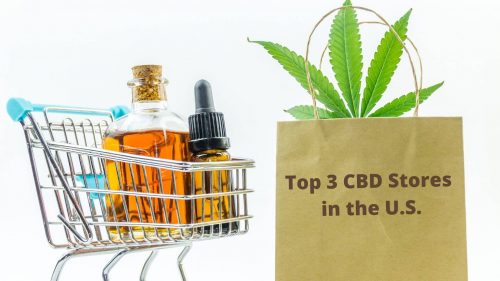 CBD stores are everywhere you look these days. As the popularity of CBD grows, CBD shops are about as common as a Starbucks popping up beside your favorite neighborhood coffee joint. Even the most unlikely places like gas stations, stray vending machines, and restaurants across the country are getting in on the action.
Sure, that means it's more convenient than ever to buy CBD. But as your choices grow, it's tough to know where to turn and who to trust. So, we sifted through the best of the best to bring you our top picks and why we think you'll love them. Read on to learn more about the top 3 CBD stores in the United States.
1. CBD Emporium
First up is CBD Emporium, a kind of one-stop-shop for all things CBD. This CBD store landed on our list thanks to their huge selection, comprehensive vetting process, and focus on guiding their in-store customers.
Why CBD Emporium
Shopping around for the right brand and product can be exhausting with the wealth of choices out there. This CBD shop makes it easy by putting it all in one place. They have the widest selection of CBD brands available online and in stores. So, no matter if you're looking for oils, creams, edibles, or something else, CBD Emporium has what you're looking for.
It's also a good place to learn more about what you're buying. Every brand has its own page with background info about the company. You can read about how each one ended up on the CBD Emporium shelves. All the product pages detail exactly what you're getting too. There's a detailed ingredients list and instructions on the best use.
CBD Emporium's Vetting Process
The best part about CBD Emporium is its comprehensive vetting process. Each product goes through a three-stage test to make sure it's worth a spot on their list. First, the staff does a deep dive on the company background and reviews to look for any red flags. Second, they confirm the brand's lab results are accurate. Third, the products go through a personal vetting process. They only stock what the team would be happy to use themselves.
CBD Emporium's In-Store Experience
If you're lucky enough to live near a CBD Emporium shop, give them a visit! Their knowledgeable staff is CBD-educated and can guide you to the perfect item for you based on the facts.
CBD Emporium has locations all over the southwest but they're expanding across the country fast. Look for a CBD store near you soon.
2. Your CBD Store
Our number two spot goes to Your CBD Store. Your CBD Store got our attention thanks to their phytocannabinoid-rich products, the effective extraction process,  and Ph.D.-backed research efforts they lead in the CBD space.
Your CBD Store's Products
Your CBD Store carries a wide range of products from their proprietary brands: SunFlora and SunMed CBD. You'll find an impressive lineup from tinctures, to water-soluble, to pet care, and everything in between.
Besides CBD, they also make extracts with other popular cannabinoids like CBG and CBN. Each product is arranged by type and comes in several different dosages. Even though their stock is from a single brand, you'll have no problems finding what you're looking for at the strength you need.
Your CBD Store's Extraction Process
CBD is always the big selling point of hemp extracts. But there's a lot more to the plant than that! Besides CBD, hemp is packed with 100s of useful cannabinoids and terpenes that enrich the effects of an extract. Your CBD Store's extraction method keeps as many of these compounds intact all the way through to bottling. This ensures you're getting every ounce of use possible in each item.
Your CBD Store's Research
The work this CBD brand is doing is a testament to its commitment to helping people's lives. Your CBD Store is collaborating with Dr. Michael J. Telch, Ph.D., a leader in anxiety disorder research at the University of Texas.
Together, they're exploring how CBD can help with anxiety and PTSD. Like most things in the CBD world, there's not enough research out there about CBD's uses in these two conditions. This a limit to advancing CBD science and a disservice to the healing potential of hemp extracts.
Their efforts are a huge vote of confidence that your sale is going towards a good cause.
This franchise brand has exploded across the country with CBD shops near you in 41 states.
3. CBD American Shaman
Our third brand is Kansas City's original franchise, American Shaman. The brand's founder tells a wild origin story, the kind you might find in a Guy Ritchie script. But beyond that, we chose American Shaman for their in-store experience, plentiful locations, and informative product pages.
American Shaman's Store Experience
If you want a no-risk way to try CBD, American Shaman is a solid choice. They're one of the few CBD stores out there with free samples right at the shops.
Keep in mind that the best benefits of CBD take some regular consumption to kick in. But, samples are a great way to see which forms or flavors of CBD you'd like best.
American Shaman's knowledgeable staff will be right there with you too. They're trained to walk you through the product line based on just what you need.
American Shaman Everywhere
This brand is expanding rapidly. They've got over 170 stores in about a dozen states throughout the southwestern United States. In the coming days, there are a lot more set to open soon. You'll be getting a consistent experience no matter which one you walk into. And if you're not near a brick-and-mortar shop, their online CBD store is great too.
American Shaman's Online CBD Store
Not near an American Shaman location? No problem! Their online shop is loaded with a huge array of products using their proprietary CBD extracts. They only carry their own brand's items, but you can find what you need in hundreds of varieties and form factors.
The best part about the shop is each product page includes everything you'd need to know to make an informed choice. You'll find an ingredients list, dosage information, and detailed instructions along with some CBD facts under every item.
Takeaway
We all feel good about supporting our local coffee joint. But sometimes when you're in a pinch, a brew from one of the big-name stores is just as enjoyable. They're easy to find and have the exact same taste you remember no matter where you go.
Our top 3 CBD stores are just like that: ultimately convenient, consistently great, and unwaveringly reliable. If you're not sure where to turn for quality products you can trust, these 3 CBD stores should be your first stop.
---
Interesting Related Article: "CBD Market Trends in 2020"