Home automation is becoming increasingly popular, with more and more people looking to upgrade their homes with smart devices. One area that is seeing rapid innovation is smart curtains and blinds.
Here Are the Top 5 Best Smart Motorized Curtains You Can Buy in 2023
SwitchBot Curtain 3
The SwitchBot Curtain 3 is an excellent smart curtain opener that works with almost any curtain rod or track. It uses a quiet motor and clamp design that allows for easy installation in just 30 seconds, without any drilling or screws required.
The Curtain 3 supports scheduled opening and closing via the SwitchBot app. It also has a QuietDriftTM mode that reduces noise down to just 25dB for uninterrupted sleep. With a battery life of up to 8 months or unlimited battery life when paired with the SwitchBot Solar Panel 3, the Curtain 3 provides hands-free control over your curtains.
It's compatible with Amazon Alexa, Google Assistant, and Apple HomeKit when paired with the SwitchBot Hub Mini. Voice control allows you to open or close your curtains with a simple command.
Yoolax Motorized Smart Blind
For those looking for smart window blinds instead of curtains, the Yoolax Motorized Smart Blind is a great option. It uses vinyl blind material that provides insulation, blocks outside light, and is easy to clean.
The blind can be scheduled to open or close at set times through the Yoolax app. It also supports voice control when connected to a smart home hub. The sleek minimalist design doesn't take up much space and is well-suited for office settings.
Quoya Electric Curtain Track
The Quoya Electric Curtain Track provides motorized control over your entire window. The rail mounts over the window while the side pole houses the smart features and battery.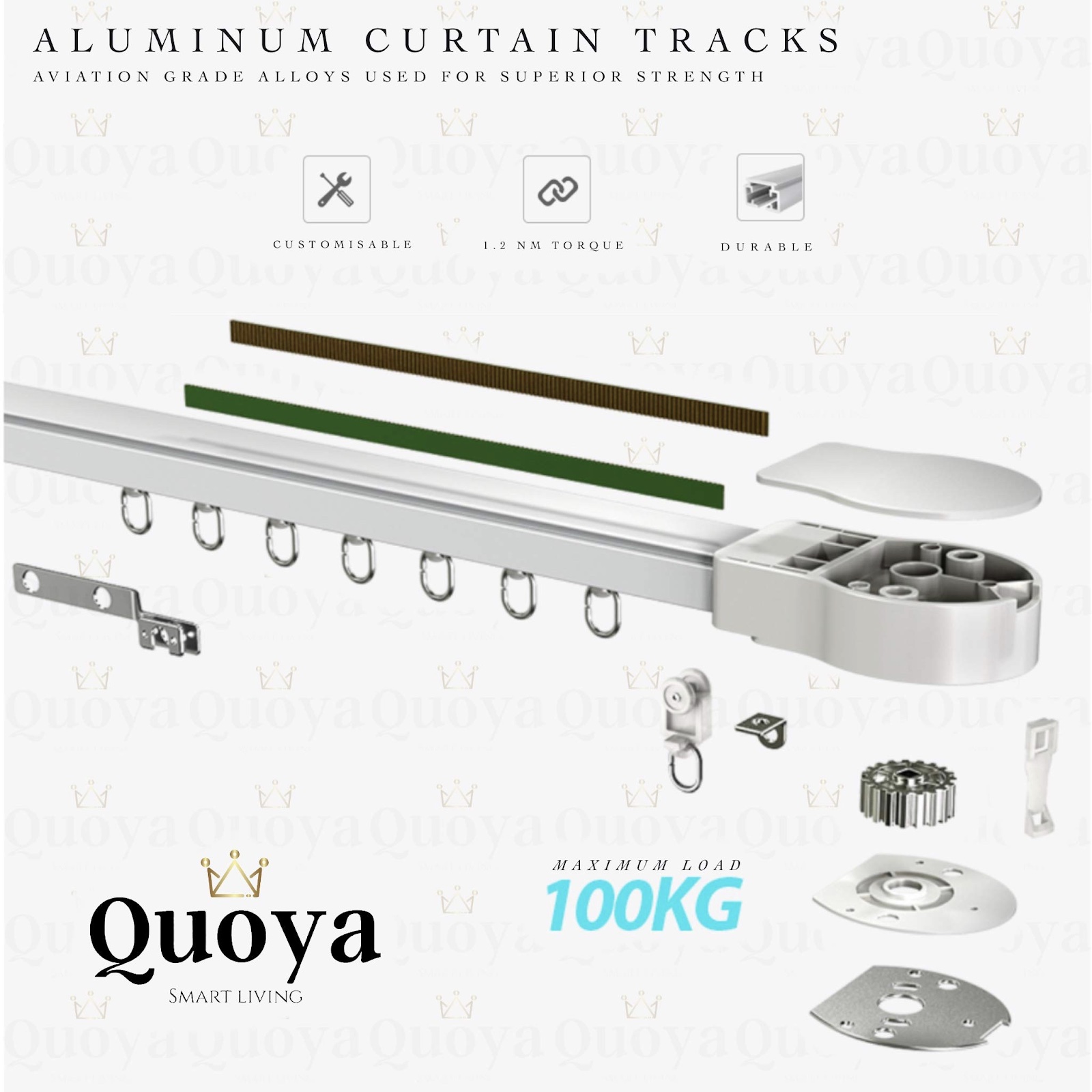 With the included remote or smartphone app, you can open and close the rail smoothly and quietly. It also works with Amazon Alexa for hands-free voice control. Do note that this system only works with clip-on curtains, not rod rings.
American Home supplier Smart Curtain System
Boasting high-quality materials and an ultra-quiet motor, the American Homesupplier Smart Curtain System is customizable to fit your exact window size up to 79.36 lbs.
Like other options, it can be controlled via app, remote, or voice control through smart home systems. The heavy-duty aluminum track ensures durability over long-term use. This motorized curtain rod blends intelligence with style. 
Graywind Motorized Blackout Curtain
Finally, the Graywind Motorized Blackout Curtain provides total light blocking with its blackout fabric that eliminates 95% of light. The curtains are fully customized to your exact window measurements so you get a perfect fit.
The Graywind curtains operate near-silently to open and close at the set times. They are lined with a soft, insulating cloth that also protects against UV rays. Control is handled through the remote or smartphone app.
Get Automated with Smart Curtains
Smart motorized curtains make it easy to let the sunshine in or block it out without having to manually adjust your curtains every time. With app and voice control, you can take the effort out of opening and closing your window treatments.
---
Interesting Related Article: "The Benefits of Outdoor Curtains: Enhancing Privacy, Shade, and Style"