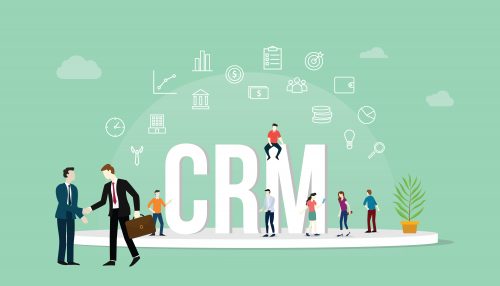 Whether you run a small business or an enterprise-scale establishment, customers remain your priority. While global brands have a lot in favour of them to attract new customers, small businesses must implement robust methods to create new clients and invite new leads. And a Customer Relationship Management (CRM) software can help them do that.
A CRM software integrated with all the top CRM features will ensure that you don't miss out on any leads, increase your conversion rate, better your customer interaction, and bring about a positive change in the way you do business. This is why it is essential to have a small business CRM software and have the right features integrated for a smooth workflow.
This article will tell you what CRM is and why it is an essential and top CRM feature that your software should have.
1.   Why is CRM important for small businesses?
A good CRM software will ensure competent customer relationship management, internal team coordination, lead management, lead nurturing, and a lot more using CRM. Several CRM software is now cloud-based enabling businesses to access critical customer data from anywhere, at any time. There are several other reasons why small businesses require a CRM system. Here are some of them:
CRM allows gathering a huge amount of customer data in one place that the teams can access at any time. It can also have a feature where this data is made available across different devices, including smartphones.
Streamlining process management:
CRM allows the automation of several mundane tasks that can take up many employee hours if done manually. It can standardize processes related to sales, marketing, and customer communication.
Insightful reports on marketing and sales campaigns:
One of the top CRM benefits for small businesses is that it can provide insightful reports regarding marketing and sales campaigns, customer communications, and their outcome
2.   Most important CRM features small companies must have:
Every business is unique and has different requirements. So, CRM systems must provide features that fit into the needs of individual companies. Working on templated solutions is not the ideal way to go about your business. Having customized and personalized features will ensure that you get the most out of them.
Here are some features that your CRM system must have:
The thing to consider here is how your CRM system lays it out for you. The software must have a contact management CRM feature that stores details like contact numbers, names, addresses, and social media accounts. The feature must provide this information in a way that is easy to access and well-organized.
This is one of the top CRM features that you must invest in. It tracks all communication with the clients and summarises the interactions, where the customer is in the sales funnel, what actions can be taken further, and how communication can be personalized. This helps the sales and marketing team to develop targeted communication with the client for a speedy response time.
This feature will ensure that no leads are missed, and they are segmented, nurtured, and converted seamlessly. It is beneficial for the sales team that is in charge of converting leads into customers. Let your sales team have a look at the feature to tell if it requires any customization.
Emails are effective ways of reaching clients and making them aware of your business. Personalized emails can also enhance customer communication, and they can be templated based on where the customer is in the sales funnel.
With this CRM feature, you can save, upload, share and collect customer-related documents that can be made available for everyone. This feature is especially useful for the small businesses that operate on a limited workforce. Document management will ensure that no piece of information is lost.
An automated proposal management feature will ensure that you don't waste time sending and resending proposals and quotes time and again. This is essential for businesses where much back and forth happens regarding quotes, contracts, and recommendations. It can be well-managed through this feature.
Every business involves specific processes that are mundane, time-consuming, and require a lot of effort. But automating such tasks can save up employee time dedicated to strategizing and implementing other important tasks. Automation also prevents & reduces the probability of human error.
While you put a lot of effort into creating marketing strategies and communicating with the clients, it is also essential to know how much these efforts yield. This can be done by integrating the report analysis feature into your CRM system. It will give you insightful reports about your campaigns, customer behaviour, where most leads are coming from, and which ones are most productive.
Predictions for the coming sales period, increasing the numbers, and where you must dedicate your efforts are also good to know. This feature provides information about how to plan your future strategy to improve your present performance.
Conclusion
CRM systems can be the lifeline of a business as they help manage important customer information and enable teams to strategize their plans. Any small business eyeing to scale up can utilize this amazingly efficient software and witness how it changes the number game.
All you need is a professional and efficient CRM software provider who understands your business needs and knows what features are essential for your unique requirements. This is where Flavor comes into the picture. Their efficient team of professionals ensures that you get the best out of your CRM and witness your sales skyrocket.
---
Interesting Related Article: "What to Look For in a CRM for Your Business"