Lloyds Banking Group has announced a 25% TSB flotation (IPO) set for the end of June, with small investors receiving one free share for every 20 bought, up to maximum purchases of £2,000 ($3,364). However, it will pay no dividends until 2017 as it invests to shore up its balance sheet by up to 50%.

TSB is the seventh biggest retail bank in the UK. It has 631 branches and 4.5 million customers. At the beginning of May 2014, Lloyds said it was planning to a TSB flotation for the end of June.
Lloyds, which is 29.4% owned by the UK government and is the country's largest retail bank, has had to float its TSB share because it was bailed out by the British taxpayer in 2008. It has to sell off its remaining stake by the end of next year. It will probably do so in tranches, much like the Royal Bank of Scotland (81% government owned) did with its Direct Line insurance arm.
TSB was to have been acquired by the Co-operative bank last year, but the deal fell through after a £1.5 billion hole was discovered in its finances.
Update, June 20, 2014: TSB's initial public offering debut was 10 times oversubscribed, prompting Lloyds Banking Group to raise the number of shares on sale from 125 million to 175 million, i.e. 35% of its shareholding rather than the originally planned 25%.
Large private investor showing expected
Lloyds says the prospectus will be published next month. Paul Pester, TSB's CEO, said there is a strong appetite for the IPO and forecasts private investors will purchase up to 20% of the shares being offered. He did not, however, offer any details on the bank's eventual valuation, which analysts estimate will be around the £1.5 billion mark.
Mr. Pester, a former Oxford physicist and experienced retail banking expert, has ten years' experience building and integrating banking businesses for Santander, Lloyds and Virgin.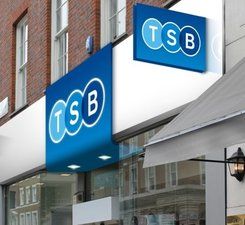 He is promoting TSB as a traditional bank where an individual's cash will be used to help the economy rather than paying executive's bonuses or going into investment banking. TSB will be a force for good, he says.
TSB is a "challenger bank" – one that is biting at the heels of the UK's four major high-street lenders. Its IPO will be the largest of any challenger bank so far.
Analysts wonder how successful the sale will be, after clothing retailer Fat Face Group Ltd pulled out and life insurer and cruise operator for the over-50s Saga PLC only managed to sell at a rock-bottom price.
TSB's IPO will decide whether others follow
In an interview with Bloomberg, David Moss, a portfolio manager at F&C Asset Management PLC, London, said of the TSB flotation "This one would need to work for the other challengers to follow. This needs to be a litmus test."
For potential investors TSB is an attractive purchase. Its core tier 1 equity ratio will be approximately 17%, way above that of even the most careful major banks. It was formed in 2013 out of 467 Lloyds and 164 Cheltenham & Gloucester branches, and has been completely indemnified by Lloyds against any future claims linked to payment protection insurance. It is also loaded with approximately £20 billion ($33.7 billion) in top-quality personal loans and mortgages.
Lloyds Banking Group's CEO, António Horta-Osório, said:
"The decision to proceed with an initial public offering of TSB is an important further step for the group as we act to meet our commitments to the European Commission. TSB has a national network of branches, a strong balance sheet and significant economic protection against legacy issues."
Despite being a major Lloyds shareholder, the UK government will not receive any of the proceeds from the TSB flotation. It will continue to recover its bailout money through the sale of its Lloyds stake. So far, the government has managed to reduce its share from an initial 39% at a profit.
Video – Lloyds announces TSB flotation