The ongoing Turkey-US row could affect European banks which have lent money to Turkish businesses. There is also a risk to investment and trade, Linda Yueh said during a BBC Radio 4 interview. Yueh is Adjunct Professor of Economics at London Business School.
"To give you a sense of the severity of this crisis, there's a chance it could impact European banks. About 40% of what Turkish companies owe is in foreign denominated currencies, so dollars and euros."
According to the European Central Bank (ECB), BBVA of Spain and BNP Paribas of France are exposed having lent money to Turkey.
The ECB also mentioned UniCredit of Italy. The European Central Bank is the central bank for the euro; it manages the euro area's monetary policy.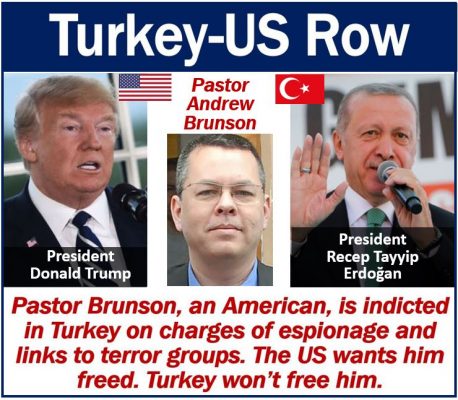 Turkey-US row – British banks
According to Prof. Yueh, British banks are in a less precarious position than their continental counterparts.
However, Turkey is right on the European Union border. It has lots of ties, trade, and investment with the EU.
Subsequently, the current Turkey-US row is bound to affect the UK. Turkey's more immediate European neighbors, however, are much more vulnerable.
Turkey-US row – the lira
Turkey's currency, the lira, has declined by almost fifty percent against the dollar this year. On 9th August, it hit a record low of 5.55.
The lira's decline is mainly due to the ongoing Turkey-US row. The dispute is over Turkey's detention of Andrew Brunson, an American evangelical pastor, on terrorism charges.
The US government wants Turkey to release Pastor Brunson. Turkey, however, says it won't. Hence, the United States imposed sanctions on two of President Recep Tayyip Erdogan's ministers.
Turkey-US row may get worse
US President Donald Trump says he will double the rate of tariffs on aluminum and steel imports from Turkey. Erdogan has subsequently responded by threatening to boycott all US-made electronic devices.
The escalating Turkey-US row has added to investors' fears about the Turkish economy. Turkey's economy was already fragile before the current tensions with the US began.
Regarding investor confidence, Prof. Yueh said:
"Investors have lost a great deal of confidence. Erdogan has become more authoritarian and is exerting greater influence over the central bank, which is a key organ for maintaining financial stability."
"The Turkish economy really isn't doing very well under this regime. The country has a massive trade deficit, buying more from the rest of the world than it sells, and it lacks the reserves to cover the difference."
"Investors look at that and say, 'Hang on, we're not sure you're going to be able to manage the economy very well, so I'm going to start selling lira and pull some of my money out.'"
Prof. Yueh adds that the Turkish-US row will further undermine the Turkish lira.
Inflation
Prof. Yueh said:
"A weakening currency makes imports more expensive and leads to inflation, which has hit 15% in Turkey. That's five times higher than the official target."
Governments usually raise interest rates as a measure against inflation. However, President Erdogan does not want to hamper GDP growth. GDP stands for gross domestic product.
However, if Turkey does not raise interest rates, inflationary pressures will grow. Inflationary pressures will subsequently deter investors.
"You really don't want to invest in a country with (such high)] inflation," Prof. Yueh said.