Twitter says that it has fixed a glitchy software update responsible for the recent widespread service outages. An outage occurs when the supply of something, such as a system, online data, or the electricity supply is interrupted.
Twitter said in a status update:
"The intermittent issue affecting some users between 00:40 to 06:50 PST has now been resolved. The issue was related to an internal code change. We reverted the change, which fixed the issue. Thank you for your patience."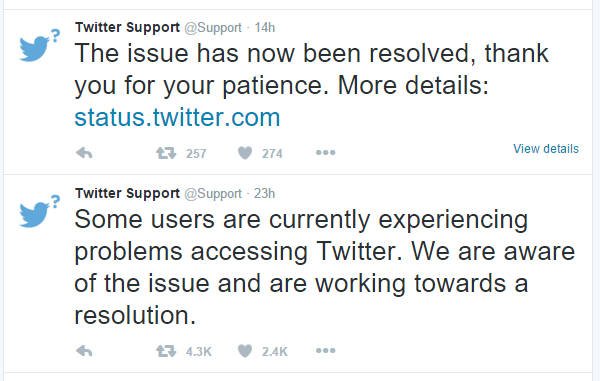 @Twittersupport reported the service disruptions in three separate Tweets between Tuesday and last Friday.
Twitter shares plunged
The market was quick to react to the service disruptions which shut out millions of users from using the social networking platform.
Shares in Twitter plunged by 7.02 percent, or 1.26 points, on Tuesday down to $16.68 – well below the price of $26 at its November 2013 initial public offering.
The beleaguered tech firm's stock has dropped by around 28 percent so far this month – following a 35 percent decline in 2015.
Investors have been disappointed by Twitter's stagnant growth rate and the recent outage has intensified those concerns – it also reflects badly on Jack Dorsey, the Twitter co-founder who recently returned as permanent CEO.
Victor Anthony, Axiom Capital Management analyst, was quoted by Reuters as saying:
"The current market malaise and the recent site outages are compounding the negatives and having a very negative reaction on the shares,"