Two new magnolia species have been discovered by naturalists working more than 200 mils (310 km) apart, thanks to the internet. Photographs of two previously unrecorded species of one of the oldest flowering plants – magnolia – were observed on the ARKive website.
ARKive is a global initiative which locates and gathers photographs, films and audio recordings of the world's animal and plant species into a centralized digital archive, which is accessible online. Its aim is to promote the conservation of our planet's threatened species 'through the power of wildlife imagery.'
Roberto Pedraza Ruiz gave ARKive a series of plant and animal photos which he had captured in the Sierra Gorda Biosphere Reserve in eastern Mexico. One of the images he had donated was initially identified as Magnolia dealbata, a magnolia that was classified as Endangered on the IUCN Red List.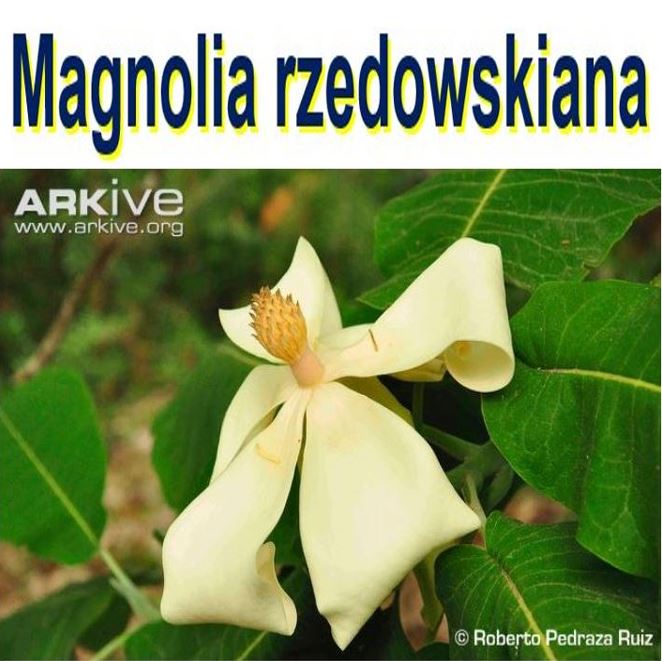 Magnolia rzedowskiana, named after Dr. Jerzy Rzedoswski, Mexico's most eminent botanist. Discovered in 2010, it was initially identified incorrectly on the ARKive website. (Image: arkive.org/magnolia/magnolia-rzedowskiana)
Scientist wondered whether classification was right
However, when botanist Dr. José Antonio Vázquez, who works at the University of Guadalajara in Mexico, came across the image while searching ARKive's 16,000 free-to-view online flora and fauna fact-files, he wondered about the accuracy of the plant's identity.
---
---
Mr. Ruiz explained:
"For Dr. Vázquez, the specimen in the photo seemed unusual and he requested that I sent him more pictures."
"So I made several more trips to the cloud forest, documenting the flowers and fruits of the trees until finally receiving confirmation that I had photographed not only one but two completely new species of magnolias."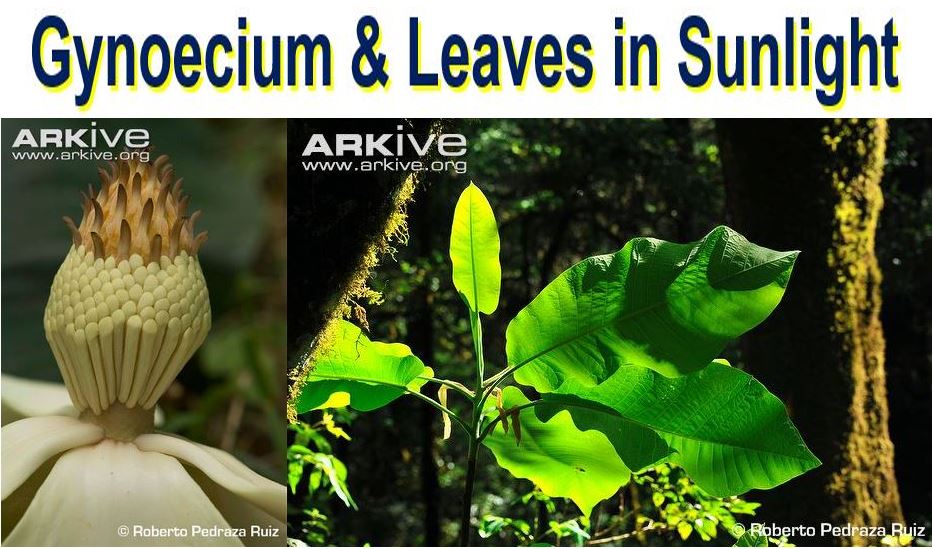 Magnolia rzedowskiana. (Left) The gynoecium, the female reproductive organ, with stamens. (Right) leaves in the sunlight. (Images: Left cdn2.arkive.org . Right cdn1.arkive.org)
Two new magnolia species discovered
The first of the finds, originally identified on ARKive, has already been documented and given the name Magnolia rzedowskiana, after Mexico's most eminent botanist – Dr. Jerzy Rzedoswski – who has gathered and documented more than 50,000 species and celebrates his 90th birthday this year.
The second find – called Magnolia pedrazae, has been named after Mr. Ruiz.
---
---
Regarding having a magnolia species named after him, Mr. Ruiz said:
"This is without doubt the highest honour that a conservationist and nature photographer can receive. It means that this incredibly special tree – an endemic of the Sierra Gorda and product of an evolutionary process that spans millennia – has become part of the family."
Lucie Muir, Director of Wildscreen, which owns ARKive, added:
"We were absolutely thrilled when Roberto told us that a new species of magnolia had been identified because of botanist looking through the images on the Arkive website."
"It's amazing that new species are still being discovered and that on this occasion Arkive was part of the discovery story."
Mr. Ruiz has been donating his photographs to Arkive since 2010. View all of his images here. (Image: Mexico Desconocido)
Grupo Ecológico Sierra Gorda
Mr Ruiz' parents started the grassroots movement that led to the creation of the Grupo Ecológico Sierra Gorda (GESG). GESG's aim is to care for a section of the eastern Sierra Madre where the rain shadow, high peaks, latitude and remoteness mean biodiversity is exceptionally rich. So, the use of the Pedraza name in the new species is apt, say conservationists.
Mr. Ruiz grew up in the region, and from a very early age started photographing specimens as a way of documenting and sharing the Sierra Madre's biological wealth and the Grupo's mission to protect it.
During a GESG expedition in 1996, Mr. Ruiz found loggers at work in the cloud forest where the new magnolia species grow. After raising the alarm, along with forty friends he bought the land and halted the logging, thus saving a habitat where cypress and ancient oaks reach heights of 40 metres (130 feet) "their limbs draped in dense mats of moss, ferns, orchids and bromeliads; and a place where he has photographed many rare or previously unrecorded life-forms, including jaguars, pumas and margays and a new family of molluscs," blog.arkive.org writes.
Mr. Ruiz said:
"These discoveries highlight the importance of protecting sites with high biological value, giving ecosystems and species refuges from human activity, spaces where they are protected from humans' ever-increasing demands for land and ecosystem services."
"If steps had not been taken to protect them, these species and others may have disappeared before we even learned of their existence."
Video – Land purchase in Sierra Gorda, Mexico
One way to protect species in a region is to buy the land, Mr. Ruiz explains.