This is UK astronaut Tim Peake's last visit to his country before his launch to the International Space Station (ISS) on 15th December 2015. Celebrations are being held across the nation. Mr. Peake says he hopes his mission will generate Apollo-like enthusiasm for space exploration among young Brits.
Mr. Peake, a helicopter test pilot in the British army, is today a British European Space Agency astronaut. He is making his final stop in Britain before going to Russia's Baikonur cosmodrome in Kazakhstan, boarding Soyuz TMA-19M, which will take him, plus a NASA and a Russian astronaut, to ISS.
Events in the UK's four capitals
The UK Space Agency says it is holding four large launch-day events in London, Edinburgh, Cardiff and Belfast, plus 16 smaller events at science centres across the nation.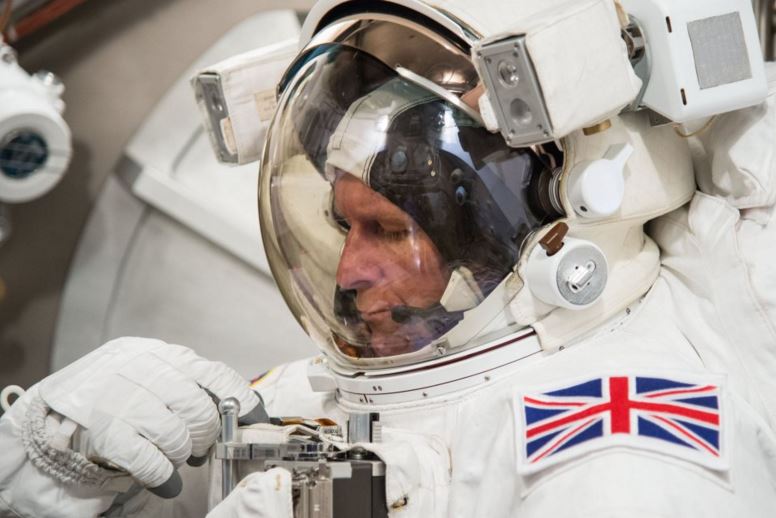 Tim Peake hopes his accounts of what is going on and what he is doing on ISS will inspire young people to become interested in engineering, science and space travel. (Image: principia.org.uk)
Jo Johnson, Minister for Universities and Science, made the announcement at the Science Museum in London during Mr. Peake's final pre-flight press briefing.
Over 10,000 people, thanks to the celebratory launch events, will have the chance to participate in a variety of science and outreach activities, and will air live footage of Mr. Peake's launch and docking.
---
---
Millions of other Brits who won't be able to attend one of the official events can either organize their own event with the assistance of an events pack provided by the UK Space Agency, or watching the launch via ESA TV.
Encouraging interest in STEM subjects
The celebratory launch events will complement the £3 million programme of educational and outreach activities being run by the UK Space Agency, aimed at harnessing the inspirational power of the British astronaut's mission, bringing the excitement of space to the country's classrooms and venues across the nation, and encourage interest in STEM subjects. STEM stands for Science, Technology, Engineering and Mathematics.
Jo Johnson said during the press conference:
"Tim Peake's launch in December will be a historic moment for the UK in space, and marks the culmination of our partnership with the International Space Station."
"Our £80 million investment in the International Space Station programme supports pioneering research and will inspire Britain's next generation of scientists and engineers to push the boundaries of science here on Earth."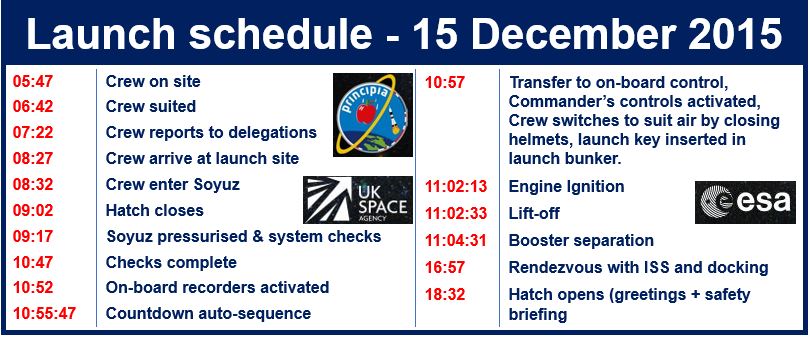 These times are subject to change. (Image: UK Space Agency's Events Pack)
Tim Peake commented:
"I feel privileged to be part of this incredible adventure in international cooperation. During my training in recent months I have come to learn that none of this would have been possible without the efforts of many. Although my job is a very visible one, I would like to pay a tribute to the many colleagues who are making my mission possible."
"These are now my new friends in many Member States of the European Space Agency, as well as in Canada, Japan, Russia and the US. I feel part of a big family working for science, for new technologies, and for the education of our younger generation."
Tim Peake will be on board the International Space Station until May, 2015. (Image: Wikipedia)
Lift off on 15th December
A Soyuz spacecraft will lift off from Baikonur in Kazakhstan on 15th December, 2015, at 11:02 GMT. Separation of Soyuz is expected at 11:13 GMT. The spacecraft will rendezvous with ISS at 16:58 GMT, and the hatch will open at 18:33 GMT.
As soon as Mr Peake, NASA astronaut Tim Kopra, and Russian cosmonaut Yuri Malenchenko dock with ISS, they will have to check out their systems and prepare for hatch opening.
The vestibule that connects the Soyuz hatch and the ISS must be pressurized, plus the pressures need to be equalized, before the hatches can be opened.
After the hatches have been opened, the new crew will meet those already on board ISS, Sergey Volkov (Russian cosmonaut), Scott Kelly (American astronaut), and Mikhail Kornienko (Russian cosmonaut).
After their welcomes, the new crew will be familiarized with the breathing apparatus, pressure gauges, fire extinguishers, and other essential equipment.
A Soyuz rocket liftoff at Russia's Baikonur cosmodrome in Kazakhstan.
Family conference later in the day
They will then assemble in the Zvezda (Service Module) for a family conference at 18:38 GMT. The new crew members will get to speak to their friends and loved ones back at the launch site complex. This will be broadcast live.
Mr. Peake may also undertake a number of activities on his first day – including the European Space Agency experiment 'Space Headaches', which involves completing a daily questionnaire for the first week.
At the end of their first day, the crew will say goodnight to mission control and try to settle into their new home.
On day 2, Mr. Peake will get to work. During their first two weeks on board the ISS, the new crew members have time allotted for getting used to living and working in a microgravity environment (weightlessness). However, the science will start in earnest from day 1.
Video – Tim Peake talks about space
In this Science Museum video, Tim Peak talks about his earliest memories of looking up at the stars and becoming interested in space travel.