Latest figures from eMarketer reveal that BlackBerry's UK base has fallen below one million and could decline to just 400,000 in the next few years.
In 2013 there were 2.5 million BlackBerry users in the UK – giving the company an eight per cent share of the phone market. However, in 2014 this figure slumped by 47.4 percent to just 1.3 million.
The number of people in the UK with BlackBerry phones has continued to fall, according to analysts, down to just 700,000.
BlackBerry only has a 1.9 per cent market share in the UK now.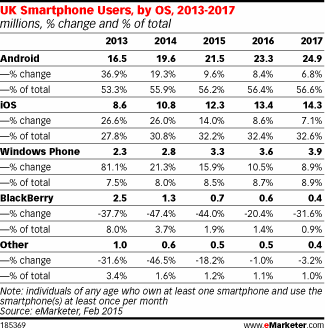 Source: eMarketer
eMarketer analyst Bill Fisher said:
"BlackBerry's fall from grace has been spectacular, but these latest figures show that even its previously loyal core seems to be leaving in droves,"
"Its market share has been decimated by Android and iOS, and more recently by Windows Phone, which is slowly gaining a foothold in the UK market."
"As these operating systems continue to see growth in their market shares, it's likely we'll see BlackBerry drop off the map completely, leaving us with just three main players in the UK market."
As the number of BlackBerry users in the UK falls the number of Windows phone users increased, up from 2.3 million to 2.8 million in 2014. eMarketer expects that figure to jump to 3.9 million by 2017.
The number one operating system in the country is Android – with 56.2 per cent market share. The number of Android users has rose from 16.5 million in 2013 to 21.5 million in 2015. Analysts forecast this figure to increase to 24.9 million by 2017.
Apple has 32.2 per cent market share, with the number of iPhone users growing from from 8.6 million in 2013 to 12.3 million in 2015. By 2017 eMarketer expects iPhone users to increase to 14.3 million.
By 2019 nearly 70 per cent of the UK will own a smartphone
eMarket said that "38.3 million people in the UK will own and use a smartphone at least monthly this year, up 9.0% over 2014 usage levels. This will take the UK smartphone population to over 70% of mobile phone users. By 2019, eMarketer projects, nearly 70% of the country's total population will have a smartphone."
The company analyses "quantitative and qualitative data from a variety of research firms, government agencies, media outlets and company reports, weighting each piece of information based on methodology and soundness."