UK car manufacturing has seen continued growth for 12 consecutive months and surpassed one million cars this year already says a new report that has released figures for July.
The Society of Motor Manufacturers and Traders (SMMT) say compared to July last year, output in July this year is up 7.6 percent to 126,566 units.
And looking at the year to date, 1,023,723 cars have rolled off the production line – up 12.3 percent on last year and the first time the 1m milestone has been reached in July since 2004.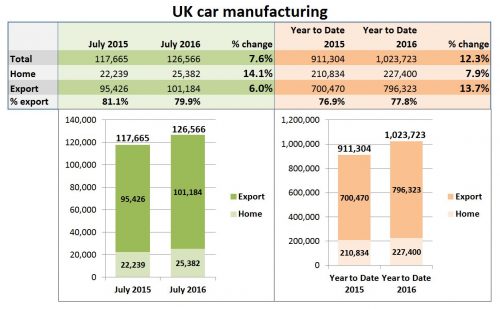 UK car manufacturing continues to grow with over 1m cars already built this year. Data from: SMMT
Both export and home market demand was up in July, and saw 6.0 percent and 14.1 percent increases respectively.
Of the over 1m car built so far this year, more than three-quarters (77.8 percent) are destined for overseas markets.
The European Union is the biggest export market for UK car manufacturing.
---
---
Mike Hawes, Chief Executive of SMMT, says, ""UK car production in 2016 is booming, with new British-built models in demand across the world."
He says manufacturers have invested billions to develop new models and build them competitively in the UK.
Nissan LEAF milestone for Sunderland
Earlier this year, Nissan announced that the 50,000th European-built Nissan LEAF – the world's best-selling mass-market electric vehicle – rolled off the production line of the motor manufacturer's flagship factory in Sunderland, in northeast England.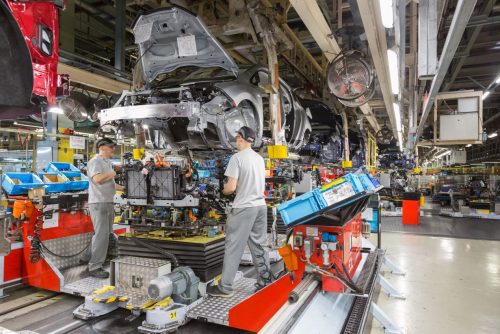 The 50,000th European-built Nissan LEAF rolled off the Sunderland production line earlier this year. Image: Nissan
The event occurs three years after Nissan introduced electric vehicle and battery manufacturing to Europe. The initiative is said to support over 2,000 jobs at Nissan and in its UK suppliers.
In a report released in October last year, the SMMT forecast that by 2020, the UK will be making 2m cars a year and sourcing more parts from the UK. However, the figures assumed that the UK would remain in the EU.
Car makers invest in the UK because it offers advantages in relation to taxation, regulation, and labour flexibility and also because of the overall business environment.
---
---
Britain must 'remain competitive and open for business'
Shortly after the UK referendum voted to leave the EU, the SMMT urged the government to make sure that ensuing Brexit negotiations secure the interests of Britain's car industry. As Hawes explained at the time:
"This includes securing tariff-free access to European and other global markets, ensuring we can recruit talent from the EU and the rest of the world and making the UK the most competitive place in Europe for automotive investment."
Following the very positive figures for July, and possibly alluding to Brexit, Hawes concludes:
"Future success will depend on continued new car demand and attracting the next wave of investment so Britain must demonstrate it remains competitive and open for business."