The UK produced 109,000 vehicles in December 2014, its best December in ten years. Production was 27% higher than in the same month in 2013.
More than 1.5 million cars rolled off production lines in the UK in 2014, the best year for car makers since 2007, and 1.2% up on 2013, despite weaknesses in several export markets.
Coventry-based Jaguar Land Rover Automotive PLC, which has belonged to Indian carmaker Tata Motors since 2008, reported volumes increasing by almost 7.5% in 2014 compared to the previous year. Honda, on the other hand, saw volumes decline by 12.3%.
According to industry leaders, the strong results were mainly due to higher investment.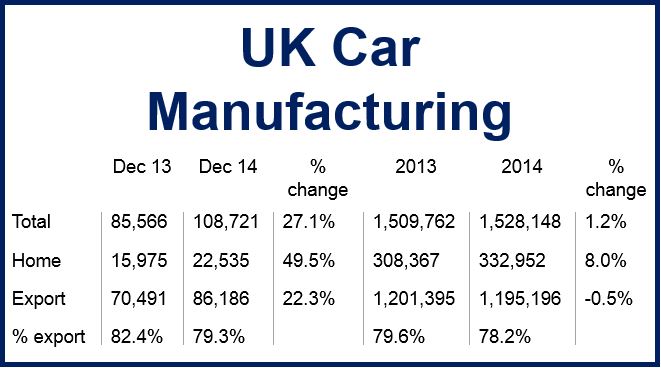 Source: SMMT.
Vice Cable, Secretary of State for Business, Innovation and Skills, said:
"These production figures are testament to the strength of our automotive industry, and show that even in tough economic conditions it continues to be one of the driving forces behind our economic recovery. From Sunderland to Goodwood, Britain is turning out cars that are in demand all around the world."
"The UK's automotive industry is thriving with a new car rolling off the production line every 20 seconds, while increasing levels of investment are helping to secure.
According to the Society of Motor Manufacturers and Traders (SMMT), a key strength of British car manufacturing is its diversity, with a mix of volume, premium and specialist vehicles in high demand globally.
Premium and specialist cars have been representing an increasing proportion of total UK vehicle production over the past decade, leading to growing demand outside the European Union. While in 2007 China represented just 1% of UK vehicle exports, in 2014 the figure rose to 12%.
Each exported car worth more
The value of total UK car exports has also increase significantly. In 2004, the wholesale value of British car exports was about £12 billion. In 2014, the figure more than doubled to £26 billion "despite a similar number of cars exported," the SMMT commented.
In 2004, the average car exported was worth £10,200, compared to £21,800 in 2014.
SMMT's chief executive, Mike Hawes, said:
"Placed in context, a 1.2% growth in UK car manufacturing in 2014 represents a very successful year. The industry has overcome various challenges, including slower than expected EU recovery and weakness in some global markets."
"More than £7bn of investment into UK production facilities has been announced in the past two years, and we are now seeing the effects as new models begin production – with more expected in 2015. UK car manufacturing is now more diverse than ever, with a unique combination of volume, premium and specialist brands giving our products truly global appeal."
Earlier this month at the Detroit Motor Show, Jaguar launched its first-ever CUV (crossover utility vehicle), the performance crossover F-Pace.