The UK economy expanded by only 0.4% in the third quarter of 2015, down from an initial estimate of 0.5%, according to data released by the Office for National Statistics (ONS).
GDP growth was far less than previously estimated in the three months to the end of September, up only by 2.1% compared with the same quarter last year.
According to the ONS, construction output dropped by 1.9%; agriculture, forestry and fishing rose by 0.2%; production grew 0.2% and services increased by 0.6%.
Second quarter GDP growth was also revised down; from 0.7% to 0.5%.
Quarterly revisions between latest and previously published estimates of GDP: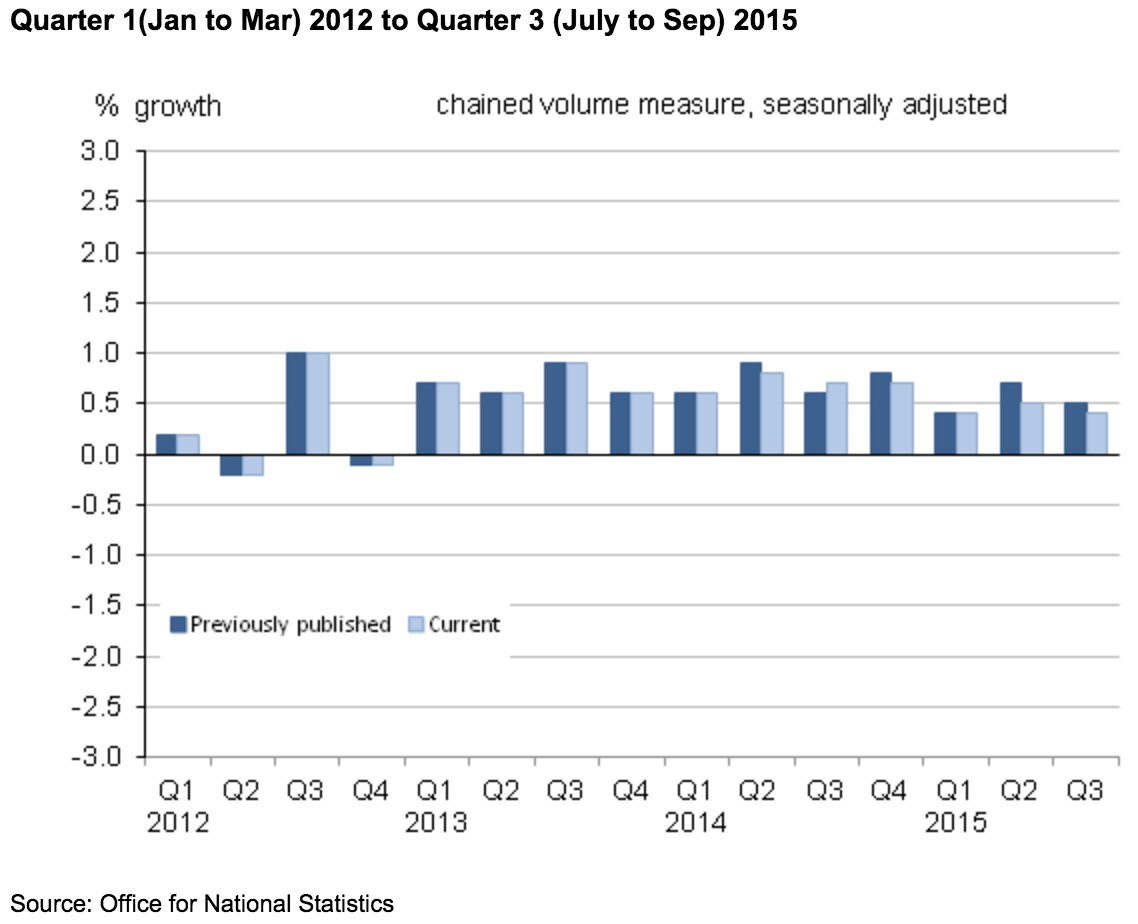 Economists now expect the UK economy to grow by 2.2 percent in 2015, down from almost 3 percent last year.
Howard Archer, Chief UK and European Economist at IHS Global Insight, was quoted by This is Money as saying: "We expect GDP growth to improve to 0.6 per cent quarter-on-quarter in the fourth quarter.
"However, because of the downward revisions to GDP growth in the second and third quarters, we will need to trim our projection of overall GDP growth in the 2015 from 2.4 per cent to 2.2 per cent."
The lacklustre growth figures means that there is going to be less near-term pressure for the Bank of England to hike interest rates. Consumers should not expect the central bank to begin raising record low interest rates any time soon.
Howard Archer at IHS added: "We currently believe that the Bank of England is more likely than not to raise interest rates by mid-2016 (we expect a move in May)."
The data comes following Tuesday's disappointing public finance figures, which revealed worse-than-expected UK public sector borrowing numbers.
---
---
The UK trade balance deficit widened from £9.7 billion in the second quarter of 2015 to £14.1billion in the third quarter – due to exports contracting by 0.3% whilst total imports expanded by 2.7%.
A Treasury spokesman said: "The UK was the fastest growing economy in the G7 last year, we're leading the pack with the US this year, we have a record high employment rate and the deficit is down.
"Today's figures highlight that risks remain – that's why we should continue working through our plan to build an economy that delivers security for working people."
Meanwhile, John McDonell, Labour's shadow chancellor, commented: "Today's figures are worrying as they show that the recovery is fragile and unbalanced with many underlying structural problems that the chancellor still has failed to resolve.
"George Osborne has to realise that he has no room for complacency with the manufacturing sector now in recession, and manufacturing output still lower than before the crash. It further shows that the so-called 'march of the makers' never left the Tory press release let alone the factory floor. With the trade balance worsening Osborne's failure to boost manufacturing and rebalance the economy represents a risk to our future economic stability."