According to the Office for National Statistics (ONS) the UK economy expanded by 1.7% in 2017, slightly lower than its previous estimate and the weakest level of growth since 2012.
The data reflects a downward revision of 0.1% from the agency's preliminary estimate and is lower than the 1.9% growth between 2015 and 2016.
In the fourth quarter the UK expanded by 0.4%, down from its previous estimate of 0.5%. According to the ONS, growth was revised down because of less growth in production industries than initially forecast.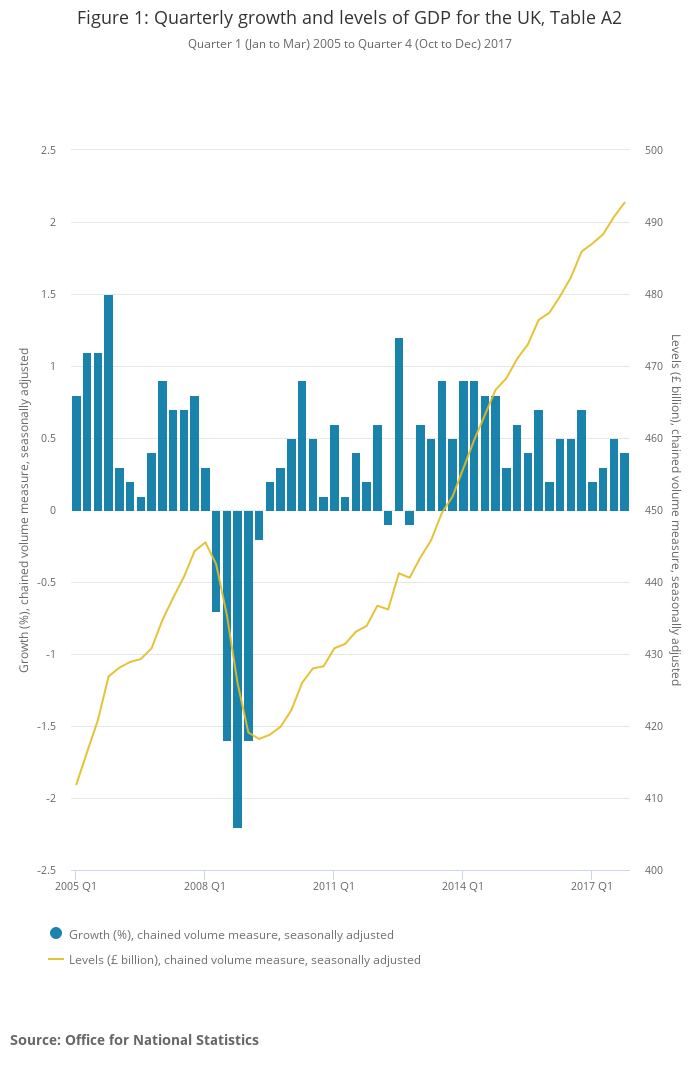 "A number of very small revisions to mining, energy generation and service were enough to see a slight downward revision to quarterly growth overall," said ONS statistician Darren Morgan.
One of the most important pipelines in the UK, the Forties pipeline system, was shutdown for most of December 2017. The closure resulted in an economic loss of approximately £20m a day and is a major reason for the lacklustre growth in the sector for that period.
Household spending only rose by 1.8% in 2017 – the lowest annual gain since 2012. The ONS attributes one of the the slowdown partly due to higher prices in stores.
Commenting on the UK GDP data, John Hawksworth, chief economist at PwC, said:
"UK growth picked up to around 0.4-0.5% per quarter in the second half of 2017 from only around 0.2-0.3% in the first half. But there are signs that growth may have eased off again in January, so we expect UK growth to remain relatively modest at around 1.5% in 2018 as a whole. This would not be disastrous by any means, but would place us towards the bottom of the G7 growth league table together with Italy and Japan, rather than at the top with Germany and the US."