The UK FTSE 100 recovered losses from the initial Trump shock on Wednesday, with the blue-chip index closing 1% higher at 6,911.84.
The FTSE 100 was down by about 140 points, or 2%, when trading began in London. However, it quickly rebounded after Trump delivered a toned down and well-received victory speech.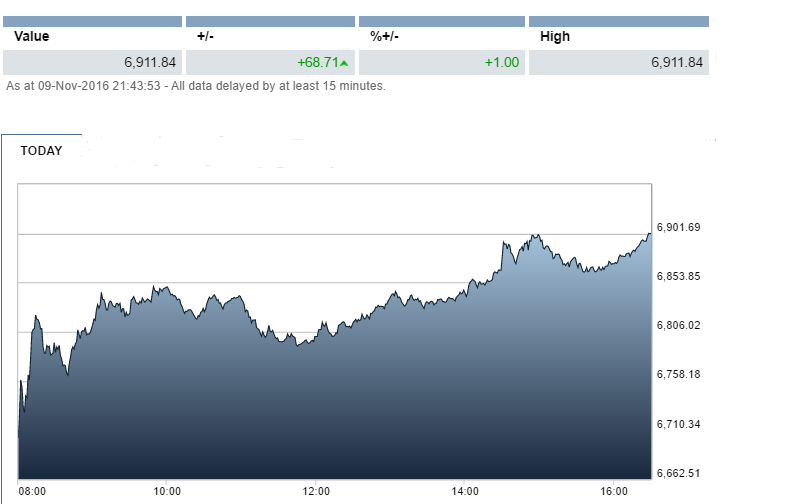 The FTSE 250 index, consisting of the 101st to the 350th largest companies listed on the London Stock Exchange, closed 0.8% higher.
Jasper Lawler, market analyst at CMC Markets, was quoted by MarketWatch as saying in a note:
"Things are never black and white and Donald Trump can be a positive force, or at least a less negative force than Hillary Clinton, for some sectors of the stock market."
"The FTSE 100 recouped sharp opening losses to turn slightly positive by the afternoon as international investors second-guessed initial reactions to the shock U.S. election result," he added.
---
Mining and healthcare were the best performing sectors
Mining firms led gains on Wednesday, with the UK mining index up 5.9 percent led by gold and silver miner Fresnillo.
Fresnillo closed 10.69% higher while Randgold Resources Ltd. gained 5% on rising gold prices.
The healthcare sector saw similar gains following the Trump victory given that Clinton had pledged to address pricing in the sector and impose tighter regulations.Shares of AstraZeneca PLC rose by 2.81%, GlaxoSmithKline PLC gained 2.7%, and Shire climbed 8.29%.
Defense stocks also saw gains, with BAE Systems PLC up 6.75% and Rolls-Royce Holdings PLC closing 5.5% higher.
Sainsbury's was the biggest faller, down 6.58%, after posting disappointing quarterly results.
---
---
Trump's victory hasn't triggered a global market panic
Laith Khalaf, senior analyst at Hargreaves Lansdown, was quoted by Reuters as saying:
"Overall, a Trump victory has so far failed to trigger the global stock market panic that many expected. As with Brexit, this is a cautionary reminder not to try to base investment strategies on the outcome of political events."