UK house prices rose 7.7% in the three months to November compared to the same period in 2012, according to the "Halifax House Price Index – November 2013".
Over the three-month period to November 2013, UK house prices rose 2.1% compared to the preceding three months.
The report added that while the November figures were higher than those of October, the latest quarterly rate was in line with the rises of 2.0-2.1% registered throughout the June-to-September period.
Martin Ellis, housing economist at the Lloyds Banking group, said:
"House prices continued to rise in November. The annual rate of price increase rose again with prices in the three months to November 7.7% higher than in the same three months last year."
"Stronger demand, combined with an insufficient increase in housing supply, has resulted in increases in house prices accompanying higher activity this year. Low interest rates, improvements in consumer confidence and official schemes, such as Funding for Lending and Help to Buy, all appear to have boosted demand. However, continuing pressures on household finances, as earnings fail to keep pace with consumer price inflation, are expected to remain a constraint on the rate of growth of house prices."
"We are also seeing signs of a revival in housebuilding, which should help bring supply and demand into better balance and curb upward pressure on prices over the medium and longer terms."
Below are some highlighted data from the report:
House prices rose 2.1% during the Aug-Sept-Oct period.
House prices increased by 7.7% compared to the same period in 2012.
House prices rose by 1.1% in November, the 10th successive monthly rise.
Compared to August 2007, UK house prices are still 12% down.
94,950 homes were sold in October, 24% more than in October 2012.
There were 11% more mortgage approvals this quarter than the previous quarter, and 31% more than the same quarter in 2012.
UK House prices rising 9.6 times as fast than earnings
UK house prices are rising at 7.7% per year compared to just 0.8% for average earnings. Economists say that the Government's Help to Buy scheme as well as record low interest rates are pushing demand sky high.
The average (typical) house was selling for £174,910 ($285,000) in November, £13,577 ($22,200) more than in November 2012, an increase of £37 ($60) per day.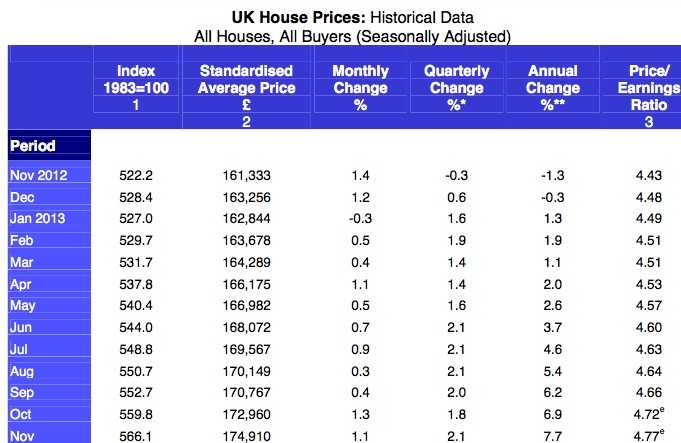 (Source: Halifax Price Index)