The UK inflation rate rose to 1.2% in November, up 0.3% from the previous month, according to the Office for National Statistics (ONS).
The Consumer Prices Index (CPI) inflation rate reached an almost two-year high in November – the last time the inflation rate was higher was in October 2014.
CPI 12-month inflation rate for the last 10 years: November 2006 to November 2016:
With the CPI 12-month rate at 1.2% between November 2015 and November 2016, a basket of goods and services that cost £100.00 in November last year would have cost £101.20 in November 2016.
The inflation uptick was driven by a surge in clothing rises, the bigggest increase in six years, as well as increases in the price of petrol – petrol prices increased by 1.6 pence per litre between October and November.
Mike Prestwood, ONS head of inflation, said: "November's slight rally in the value of sterling eased the inflationary pressure on businesses importing raw materials, but consumer prices continued to edge upwards, due mainly to the rising cost of clothing and fuel."
Contributions to the CPI 12-month rate: November 2015 and November 2016: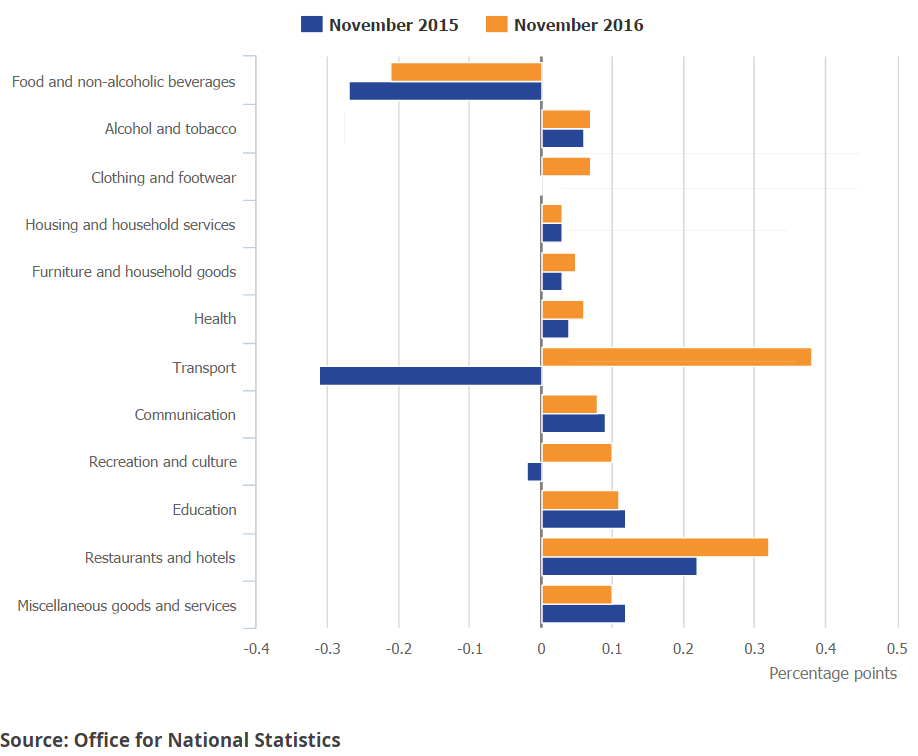 Clothing and footwear prices rose by 1.6% between October and November this year, this compared with a fall of 0.1% between the same 2 months last year and represents the largest October to November rise since 2010.
Howard Archer, chief UK economist at IHS Markit, was quoted by the BBC as saying: "It seems that there was less discounting of winter clothing in November and the ONS indicated that price increases were particularly marked for women's and men's outerwear. There was no reference to the pound's weakness increasing prices of imported clothes, but that will surely be a factor going forward."
---
---
The Treasury said in response to the inflation data: "The economy remains fundamentally strong with taxes cut for millions of working people and the employment rate at a record high. The autumn statement set out support for an economy that works for everyone, as we adjust to our new relationship with the EU."
The Bank of England forecasts inflation to keep rising next year to 2.7% and stay above the central bank's 2% target until 2020.