The UK Leading Economic Index rose 0.3% in March, says The Conference Board, after a 0.4% increase in February and 0.6% in January. Of the seven LEI (Leading Economic Index) components, five made positive contributions this month.
Bert Colijn, Senior Economist at The Conference Board, said:
"The Leading Economic Index for the U.K. continued to increase in March, suggesting that economic growth is likely to remain strong in the months ahead."
"Even though uncertainty about growth prospects in the Euro Area is mounting – alongside tensions in Ukraine – the outlook for the U.K. continues to be positive, with only order book volume and stocks declining."
The LEI for the UK increased by 2.5% during the six months leading up to March 2014 (equivalent to about a 5.1% annual rate), slower than the 3.8% (approx. 7.7% annual rate) recorded in the previous six months.
In recent months, the strengths among the leading indicators have continued to be more widespread than the weaknesses.
The seven LEI components
Below is a list of the seven components that make up the LEI (and whether they went up or down). The five positive ones were (in order of size of contribution):
Consumer confidence – up.
Productivity for the whole economy – up.
Volume of expected output – up.
Total gross operating surplus of corporations – up.
The two negative contributions were (in order of size):
Order book volume – down.
With March's 0.3% increase, the UK Leading Economic Index now stands at 110.2 (2004-100).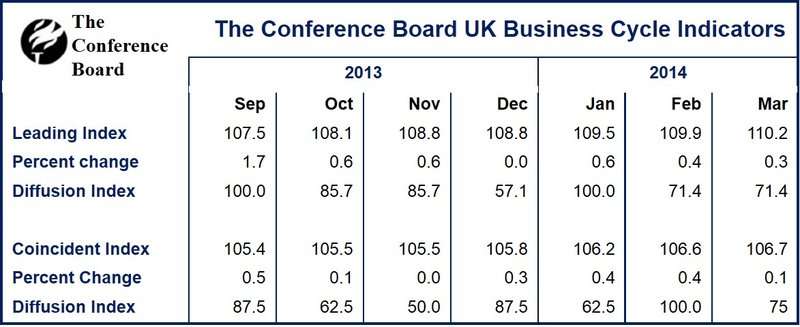 (Source: The Conference Board)
UK Coincident Economic Index (CEI) up
The CEI is a measure of current economic activity. The UK CEI increased by 1.2% (about 2.5% annualized) over the period September to the end of March, slightly less than the 1.4% recorded during the previous six months.
All components of the CEI have increased in recent months. Real GDP (gross domestic product) grew at an annual rate of 3.5% in Q1 2014, compared to 2.7% in Q4 2013.
Of the four components that make up the CEI, three were positive contributors in March and one declined, as follows (in order of size):
Real household disposable income – up.
Industrial production – down.
For the month of March, The Conference Board CEI for the UK stood at 106.7 (2004=100).
The Office for National Statistics announced yesterday that UK unemployment fell to 6.8% in March, a five-year low.