UK manufacturing output increased by 0.5% in July, the fastest pace this year, according to official data released by the Office for National Statistics (ONS).
The term 'manufacturing' refers to converting raw materials and components into finished goods in a factory. In most cases things are made on a large scale.
According to the ONS, the largest contribution to growth in manufacturing was a 7.6% increase in output in the transport equipment sector. Within this sub-sector, motor vehicles, trailers and semi-trailers rose by 13.7%, the strongest growth since March 2009.
Kate Davies, ONS senior statistician, said manufacturing had remained "relatively subdued since the start of the year, though July showed the first significant monthly growth of 2017, with car production increasing partly thanks to new models rolling off the production lines".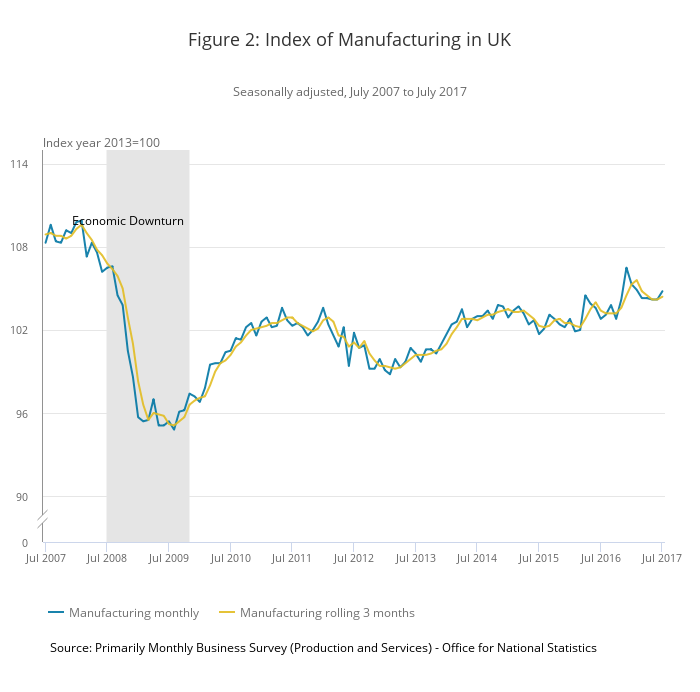 Overall industrial production rose by 0.2% in July, after a 0.5% increase in June. Mining and quarrying offset the increase in total production, dropping 6.5%.
The trade deficit in goods and services in July was unchanged at £2.872 billion, while Britain's trade in goods deficit with the rest of the world widened slightly to £11.567 billion.
The stronger-than-expected manufacturing output growth in July boosted the pound against the dollar by 0.76% to $1.32.
However, Labour MP Chuka Umunna, was quoted by The Guardian as saying:
"Brexiteers repeatedly argued that the upside of crashing the pound would be that we would see a major boost in British exports. But there is scant evidence of this, and Britain's trade deficit remains stubbornly high.
"It is also increasingly clear that any gains in manufacturing exports will not be not enough to offset the damage being done to other sectors as a result of the government's hard Brexit plans. A chink of light in today's figures is that Britain's deficit in goods trade with other EU countries has narrowed. But this just serves to underline how crucial full membership of the single market is to British jobs and the economy."