The UK Manufacturing PMI declined to its lowest growth level since June 2013, with both output and new orders growing less rapidly than in the previous months, a Markit/CIPS survey showed.
The Markit/CIPS UK Manufacturing PMI fell from 54.8 in July to 52.5 in August. Any figure over 50 points to growth, i.e. the sector is still growing, but at a slower pace.
A separate report, published by the manufacturers' organization EEF, also pointed to slower growth during the July 30 to August 20 period.
Signs of slowdown more evident
In the Markit/CIPS report, the authors wrote that although UK manufacturing continues to expand, in recent months signs of a slowdown have become increasingly evident.
Compared to the beginning of Q2 2014, output and new orders are currently about seven points lower.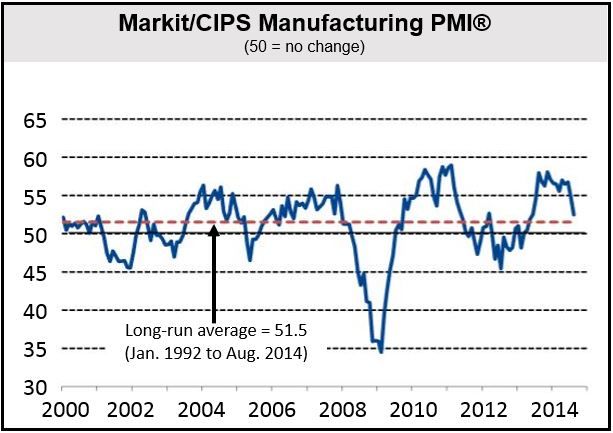 (Source: Market Economics)
For the seventeenth consecutive month, overseas demand for British manufactured goods increased in August, especially from the United States, Canada and the Middle East. However, new export orders grew by their lowest rate since March.
Employment in manufacturing in August increased for the sixteenth successive month, but the growth rate in payroll numbers "slowed in line with the trends in output and new orders, hitting a 14-month low," the authors reported.
Staffing levels were higher at small-to-medium-sized enterprises, but fell marginally in larger companies.
The backlog of work-in-hand declined for the sixth consecutive month in August. Companies say this was due to settling contracts from existing inventories, increased employment and higher production.
Stock levels of finished products subsequently declined at the fastest pace in 10 months, "taking the forward-looking new orders to inventory ratio to its joint-lowest in 16 months."
Purchase price inflation, although low by historical standards, rose in August reaching a 7-month high. Average selling price also increased slightly.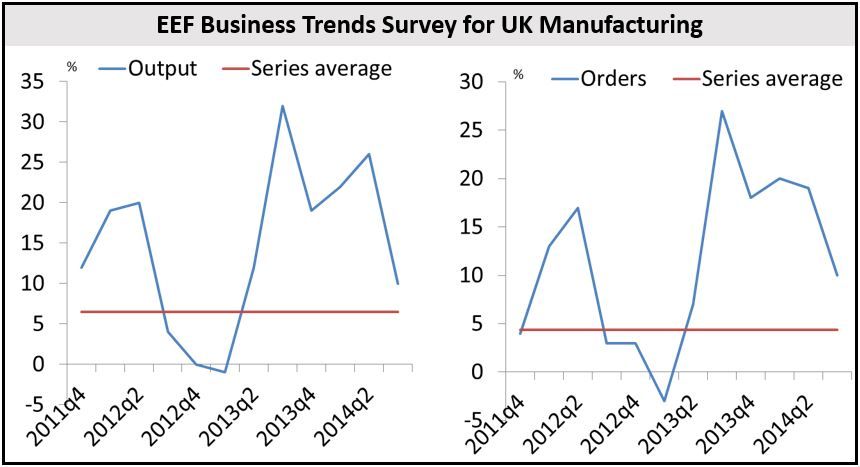 (Source: EEF)
Problems abroad
Rob Dobson, Senior Economist at Markit, said:
"The underlying dynamic of the survey also provided a consistent picture of a broad slowdown, with inflows of new business and new export orders weakening and the pace of job creation also easing. Sustaining the upturn is nonetheless still a positive in itself, and it should be noted that the pace of expansion remains solid and a touch above its long-run average."
Mr. Dobson reminded readers that the UK is not immune to the impact of growing geopolitical and global market uncertainty. Most of the strong growth was found in companies trading with North America, the Middle East and Asia, "as opposed to our European partners," he noted.
David Noble, Group Chief Executive Officer at the Chartered Institute of Purchasing & Supply, said:
"To help plug the hole left by a faltering Eurozone, manufacturers are finding new markets in North America and the Middle East. Vitally however, manufacturers continue to anticipate growth for the foreseeable future, with SMEs in particular still hiring to catch up with one-and-a-half years of consecutive output and new order growth."