UK average pay growth (excl. bonuses) at 1.3% in September beat inflation at 1.2%, according to data published on Wednesday by the Office for National Statistics. This is the first time in five years that wage increases have beaten the Consumer Price Index.
When factoring in bonuses, pay increased by 1% in September.
Since the global financial crisis, pay growth has remained weaker than price increases. In 2014, the gap between the two started to shrink.
The government hailed the news as confirmation that the economic rebound is starting to feed through to household budgets, while unions reminded workers and employers that the average Brit's purchasing power will not return to pre-crisis levels for several years.
While encouraging, wages currently outpacing the Consumer Price Index has more to do with the declining inflation rate than a big surge in pay growth.
Unemployment in the UK declined by 115,000 between July and September, the 18th successive fall, to 1.96 million. Over a one-year period, the unemployment rate has fallen from 7.6% to 6%.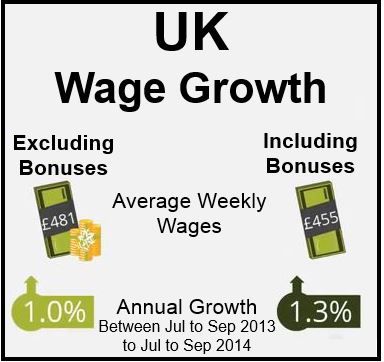 (Source: Office for National Statistics)
Even so, the slightly higher increase in September's pace of wage growth may be a sign that productivity improvement, which has been stubbornly weak in the UK since the Great Recession, is starting to pick up.
The economy grew by 0.7% in the third quarter while total hours worked only increased by 0.1%, meaning that output per hour rose by a net 0.6%, which is the best productivity improvement since 2011.
The number of individuals claiming Jobseeker's Allowance stood at 931,700 in October, which was 20,400 fewer than in September, and the 24th successive monthly decline.
The total number of people in jobs in the July-to-September period increased by 112,000 to 30.7 million, or rose from 71.6% of the population to 73%, an all-time record.
Video – UK Labor Market – November 2014
This video, by the Office for National Statistic, includes a summary of the UK labor market covering the period from July to September 2014.