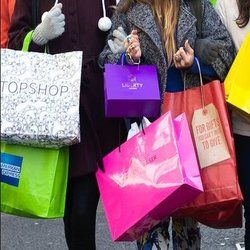 Retail spending increased in September, according to the British Retail Consortium (BRC).
The net value of retail sales between Aug. 30 and Oct. 3 was up 3.9 percent compared to the same period last year and sales grew at the fastest annual pace for six months.
The fastest-growing retail sectors were furniture, clothing, and footwear. The BRC said that autumn weather boosted demand for seasonal clothing.
David McCorquodale, head of retail at KPMG, the report's co-author, said:
"Fashion sales were given a particular boost in September, with more autumnal weather encouraging shoppers to check out the new season ranges and last-minute back-to-school purchases lifting sales of children's clothes and shoes. Home and furniture also benefited from the bank holiday timing as consumers took the opportunity to fit in a bit of redecorating,"
Despite sales of non-food products growing, the supermarket price war has driven food sales down. During the past three months food sales dropped 1.4% on like-for-like terms, whereas non-food sales increased 3.1%. Non-food online sales increased 14.2% in September compared to 8.2% the previous year.
Helen Dickinson, the BRC's chief executive, said: "September was a bright month for overstated. retail, with the strongest sales performance since January of last year, excluding Easter distortions. However, sales growth was boosted by the August bank holiday, which fell in this period as opposed to August last year, shifting back to school sales into September, so such strong growth is likely to be overstated."
Retail spending climbed up 2.2 percent on the year for the third quarter as a whole, up from 1.1 percent in the second quarter, but still lower than the 2.8 percent rise in Q1.