New car sales in the UK in September increased by 5.6% to 425,861 vehicles, the largest September since 2004, according to figures published by Society of Motor Manufacturers and Traders (SMMT) on Monday.
In the UK, new cars sold in September and March have the new license plate numbers, hence their sales figures are much higher than in the other months.
September was the 31st successive month of growth in new car sales in the UK. So far in 2014, a total of 1,958,196 new cars have been sold.
SMMT's CEO, Mike Hawkes, said:
"September's strong performance underlined the continuing robustness of the UK new car market, particularly in the context of last September's bumper volumes."
"Demand for the new 64-plate has been boosted by intensifying confidence in the UK economy, with consumers attracted by a wide range of exciting, increasingly fuel-efficient, new cars. In the months since March – which saw an 18% jump in registrations – the growth has shown signs of leveling off as the market starts to find its natural running rate."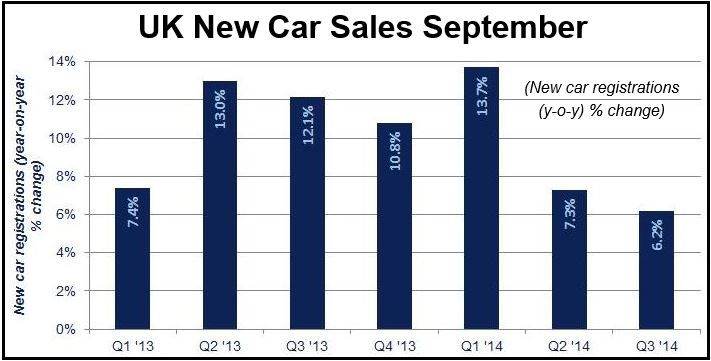 New car sales are leveling off (Photo: SMMT)
Before the Great Recession (2004-2008), new car sales volumes for September and March averaged at 852,000, this figure dropped to 729,000 during the recession (2009-2013).
September's best-selling new cars were the Ford Fiesta (23,266), Ford Focus (13,508), Volkswagen Golf (13,011), Vauxhall Corsa (12,506), Volkswagen Polo (10,312), Fiat 500 (9,122), Vauxhall Astra (8,861), Audi A3 (7,317), Peugeot 208 (6,968), and Nissan Qashqai (6,847).
Since January 2014, the best-selling new cars in the UK are the Ford Fiesta (106,930), Ford Focus (67,015), Vauxhall Corsa (62,693), Volkswagen Golf (58,664), Vauxhall Astra (47,482), Nissan Qashqai (38,920), Volkswagen Polo (36,772), Audi A3 (35,596), Fiat 500 (35,032), and BMW 3 Series 29,665.
Cars today pollute less
Over the last ten years, the automotive industry has made great strides to make vehicles less polluting. In 2004, the average new car sold emitted 179g/km CO2 from the tailpipe.
In September 2014, the average new car sold emitted 122g/km CO2. Even compared to 2013, with an average of 128.3g/km CO2, emission rates have improved, the SMMT said.
Cars have also become more fuel-efficient since 2004. The average new car sold in the UK ten years ago consumed 42.4 miles per gallon (mpg) of fuel, compared to 59mpg in September 2014.
This means that "If an average 04-plate and 64-plate car were given five liters of fuel and set off from London, the 04-plate would reach York, while the new car would reach Gateshead," SMMT wrote.
Color preferences have changed
People's choice of car colors have also changed in the UK since 2004. Ten years ago, the most popular choice was silver, followed by blue.
Today, silver is not even in the top five. September 2014's favorite car color was white, followed by black, blue, gray and then red.