UK soaring car sales registered their 27th successive month of growth in May, breaking the last 26-month stretch of growth set in the late 1980s, according to the Society of Motor Manufacturers and Traders (SMMT). New car registrations rose by 7.7% in May to 194,032 vehicles, the highest number since 2004.
In 2014 up to the end of May a total of 1,058,974 cars were sold, 11.6% more than the 948,666 sold during the same period in 2013.
SMMT CEO, Mike Hawes, said:
"The new car market has now grown in every month since March 2012 – the longest period of growth on record and a reflection of the UK's ever-improving economic conditions."
"Over the past 27 months, increasingly confident consumers have been drawn to some fantastic new products, attracted by innovative technologies, improved fuel economy and competitive deals helping make a new car more affordable. With SMMT forecasting an overall rise of around 6% over the year, the coming months should see some leveling off in growth rates as underlying demand stabilizes."
Auto sales in the United States in May hit a 9-year high, with especially strong demand for SUV's (sports utility vehicles) and pickups.
Customers more demanding today
According to SMMT, UK motorists are demanding higher levels of comfort, style and functionality from their automobiles.
Ten years ago, 65% of new cars had alloy wheels compared to 87.1% in 2013. Air conditioning was standard in 75.3% of new cars in 2004 versus 95.4% in 2013.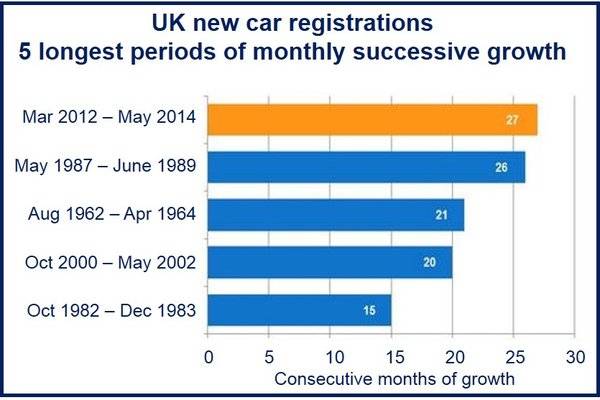 (Source: SMMT)
There is growing demand for in-car connectivity. From 2010 to 2013, the percentage of cars with MP3 capability rose form 83.3% to 95.7%.
The best-selling cars in May were (in order):
Ford Fiesta: 9,450 units sold,
Volkswagen Golf: 7,134 units sold,
Vauxhall Corsa (General Motors): 6,536 units sold,
Ford Focus: 5,824 units sold,
Vauxhall Astra: 5,035 units sold.
The best-selling cars in the 5-month period ending in May 2014 were (in order):
Ford Fiesta: 58,040 units sold,
Ford Focus: 37,355 sold,
Vauxhall Corsa: 34,321 units sold,
Volkswagen Gold: 31.,596 units sold,
Vauxhall Astra: 26,062 units sold.
(Source: SMMT)