The UK's current account deficit rose to a record high of £32.7 billion in the three months to December 2015, according to the Office for National Statistics (ONS).
For the full year the country's current account deficit reached £96.2 billion (approximately 5.2% of annual GDP).
The current account deficit refers to the UK as a whole, including both private and public sectors.
Components of the UK current account balance as % of nominal GDP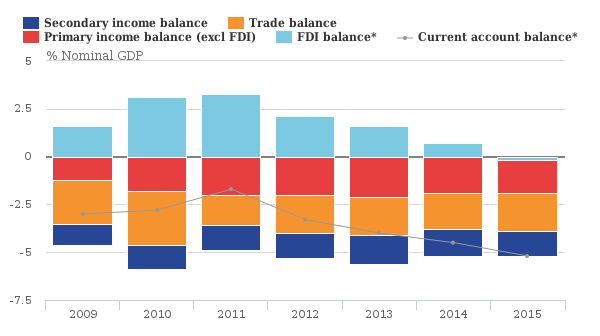 The rise in the current account deficit last year marks the fourth consecutive annual deterioration since 2011, of which 80% is attributable to declines in net foreign direct investment (FDI) earnings.
The ONS said that the "majority of the decline in FDI credits is attributable to the largest 25 multinational companies, while the rise in debits is more diverse."
UK FDI earnings have made a positive contribution to the UK current account since 1997, helping offset negative contributions from the other major components. However, according to the ONS, "the positive contribution of FDI earnings has fallen since 2011, turning negative in 2015."
FDI credits, debits and earnings balance
Howard Archer, chief UK and European economist at IHS Global Insight, was quoted by the BBC as describing the current account figures "truly horrible" and "a particularly uncomfortable development for the UK economy".
"While the markets have so far taken a relatively relaxed view of the UK's elevated current account deficits, it could become an increasing problem if the markets lose confidence in the UK economy for any reason – especially given the size of the fourth-quarter 2015 shortfall," he added.
"This would make it harder for the UK to attract the investment inflows that it needs to finance the current account deficit and could weigh heavily down on sterling.
"An obvious potential trigger for the markets losing confidence in the UK economy could be a vote to leave the EU in the 23 June referendum."
UK economy expanded more than expected in 2015
The ONS also revealed that the UK economy expanded by 0.6% in the fourth quarter of 2015, beating previous estimates of 0.5%. For all of 2015, the UK economy grew by 2.3% – up from previous estimates of 2.2%.