The directors of the UK's top 100 publicly listed companies earn 120 times the average that their employees earn, according to a recent report by Incomes Data Services (IDS).
The earnings of directors of FTSE 100 companies saw their total earnings increase by 21% at the median over the last year.
The average annual salary in the UK currently stands at £27,000. The IDS reports that a director now earns £2.43 million a year.
The rate of executive pay growth is faster than the growth of average pay. Fourteen years ago, in 2000, directors only earned 27 times more.
What has mainly driven the pay increase are share awards (to incentivise long-term performance) and bonuses, which rose by 44% and 12% respectively.
The median bonus for the directors of the FTSE 100 companies was £1,018,000, while the median value of vested long-term incentive plan (LTIP) was £1,993,500.
Basic salaries were £822,300, an increase of 2.5%, which is over three times the size of average wage growth.
Steve Tatton, editor of the IDS report, said:
"FTSE 100 directors have seen their total earnings jump sharply in the last year, fueled by a rise in the value of share based awards. Bonus payments have also recovered strongly following a downturn last year."
"The pattern of pay growth highlights the complex make up of directors' remuneration. Salary rises may be modest but this can be more than made up for by the receipt of incentive payments. When such incentives pay out, they can pay out substantial sums, giving a significant boost to directors' earnings."
Indexed median earnings movements of FTSE 350 Chief Executives versus all full-time employees 2000 to 2014: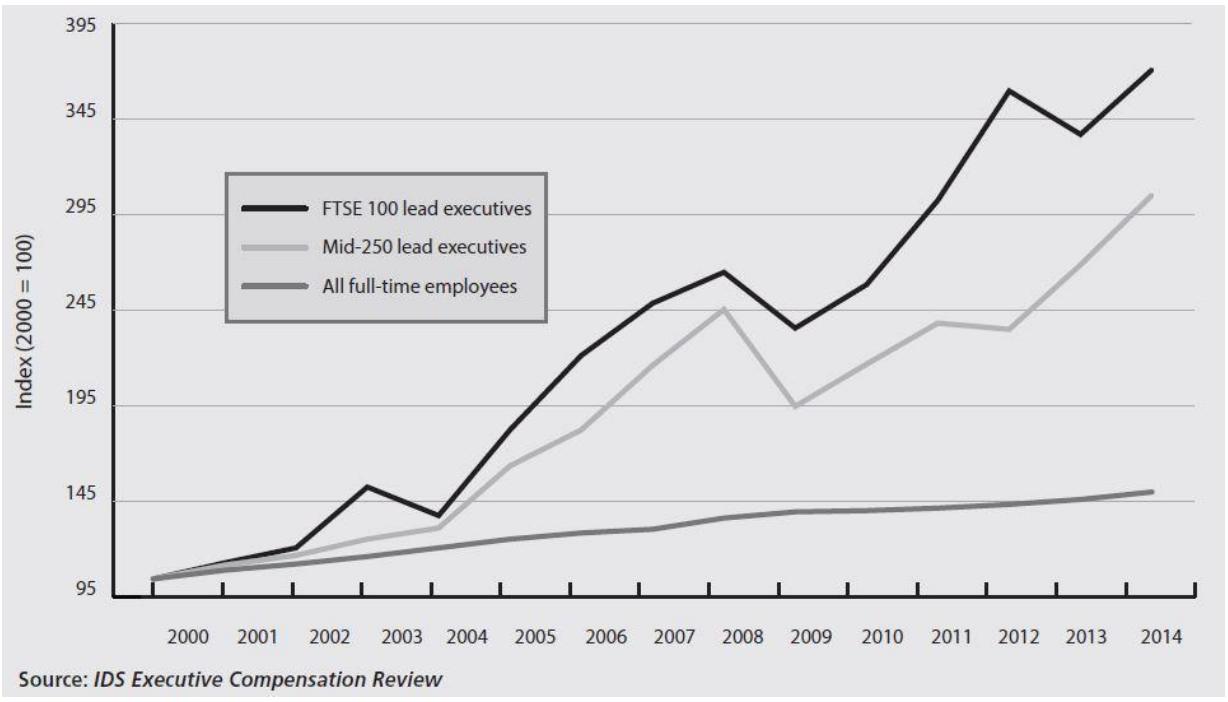 Reference: "FTSE 100 Directors' Total Earnings Jump By 21% in a Year", Steve Tatton, IDS Executive Compensation Review"