Many people in the US have had to get an additional job, defer saving for retirement, or cut back on healthy foods and health care in order to cover their mortgage or rent. Unaffordable housing affects 52% of Americans, according to a How Housing Matters survey which asked people how they have coped over the past three years.
The annual survey, which was carried out by Hart Research Associates on behalf of the John D. and Catherine T. MacArthur Foundation, found that more than half of all Americans with mortgages or rent to pay have had to make at least one sacrifice in order to make ends meet.
Some have had to ramp up their credit card debts or move to a more dangerous neighborhood.
The survey consisted of telephone interviews (mobile phones and landlines) and included 1,355 adults between April 8th and April 14th.
This year's survey had some indicators that Americans' views regarding the housing crisis are gradually shifting toward optimism, but a sizable proportion still say they are feeling no relief. Seventy percent of respondents believe the country is still in the middle of a crisis that is set to get worse.
Fifty-eight percent say the government should do more to make sure there is an adequate supply of affordable quality housing to buy or rent.
Home ownership becoming less appealing
The latest report reinforced findings from the previous year demonstrating that home ownership is less of a pull for Americans than it used to be.
Forty-three percent of respondents do not see owning a home as "an excellent long-term investment and one of the best ways for people to build wealth and assets." Fifty-four percent believe that purchasing your own home is less appealing than it used to be.
Fifty-eight percent of tenants (people paying rent) say that being a renter does not reduce your chances of achieving the American Dream. However, 70% of renters say they would like to own their own home one day.
Affordable housing "challenging"
Fifty-eight percent of respondents said that affordable quality housing for rent is "very/somewhat challenging" to find in their community, while 59% said buying one is very or somewhat challenging.
As far as families living at or below the poverty level are concerned, finding affordable quality housing is "very challenging", according to 72% of interviewees. The authors of the report added "but the concern goes well beyond those living in poverty."
Fifty-eight percent of those on averages incomes, 75% of young people who have just entered the labor force, and 60% of families with children said it is very or somewhat challenging to find quality affordable housing.
Many are making sacrifices
More than 60% of adults believe it is fairly/very likely for families that are finding it hard to keep their home to…:
have a second job: 82% think it is very/fairly likely,
postpone saving for retirement: 73% think it is very/fairly likely,
build up credit card debt: 72% think it is very/fairly likely,
spend less on health care: 62% think it is very/fairly likely.
Most adults believe people are making sacrifices because they have been there themselves. Fifty-two percent say they personally had to make at least one of the sacrifices listed above in the last 36 months in order to cover their mortgage or rent.
When asked whether they ever had to make a sacrifice in order to meet their rent or mortgage payments, the following groups of people said they had:
Forty-seven percent of all adults said that either now or sometime in the past their housing situation was not stable or secure; among renters today the figure stands at 56%.
(Source: "How Housing Matters" survey)
"Housing crisis not over," many say
Even though analysts and economists say the US housing crisis is over, 70% of respondents say they believe it is still underway, while 19% believe it will get worse.
Only one-quarter of interviewees agreed with the housing experts and said "the housing crisis is pretty much over."
Optimism regarding the housing crisis has only improved slightly. In 2013, 77% of respondents said the US was still in the middle of the crisis.
Geoffrey Garin, president of Hart Research Associates, said:
"The housing crisis that began more than five years ago has left an indelible mark on the attitudes and experiences of Americans. Housing affordability has driven a large share of the American people to make significant financial adjustments."
"Concern and insecurity about the ability of middle class Americans to maintain their footing and for people to rise up into the middle class is a central theme in America today and this research shows that housing is front and center in these concerns."
The US Census Bureau informed that new home sales rose by 6.4% in April 2014 compared to March 2014. However, sales were still 4.2% below the figure for April 2013.
Existing-home sales grew by 1.3% in April 2014 compared to March 2014, but were 6.8% down on April 2013.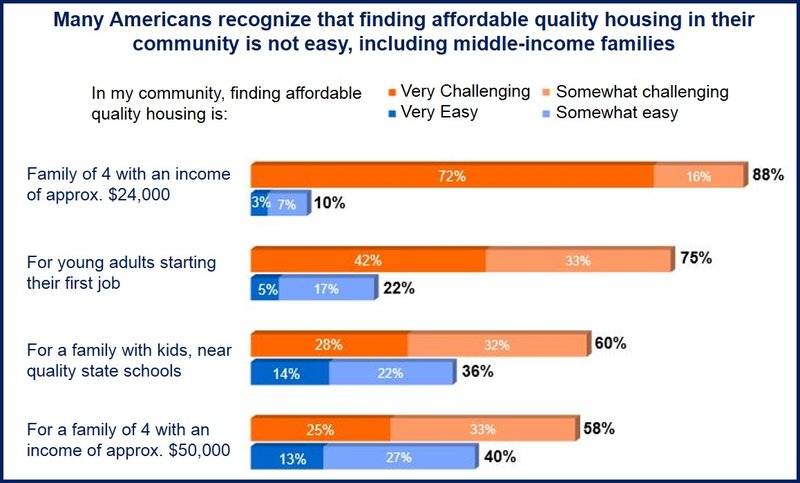 (Source: "How Housing Matters" survey)