United Airlines has unveiled its brand new international business class cabin dubbed "Polaris".
Polaris has been designed to make long distance flying more appealing, offering passengers a "pod" capable of fully reclining into a 6′ 6″ bed with adjustable back support.
"International business class for all the carriers is a big, high-margin product," said United Continental CEO, Oscar Munoz. "And it's usually the business traveler that has to attend a business meeting the next morning or day — and so the concept of sleep, that aspect is really important for them."
United is hoping that upgrades to its international business class will help attract big-spending travelers.
Most major U.S. airlines already offer business-cabin seating which can recline 180 degrees, but United has been late to the game in offering every business class seat easy access to the aisle – window passengers have had to hop over the seat next to them to get to the aisle, which can be a little bit disturbing.
This problem has been addressed with the new seats from Zodiac Aerospace SA's U.K. unit. The seats have barriers between passengers, allowing people to access the aisle without disturbing those around them.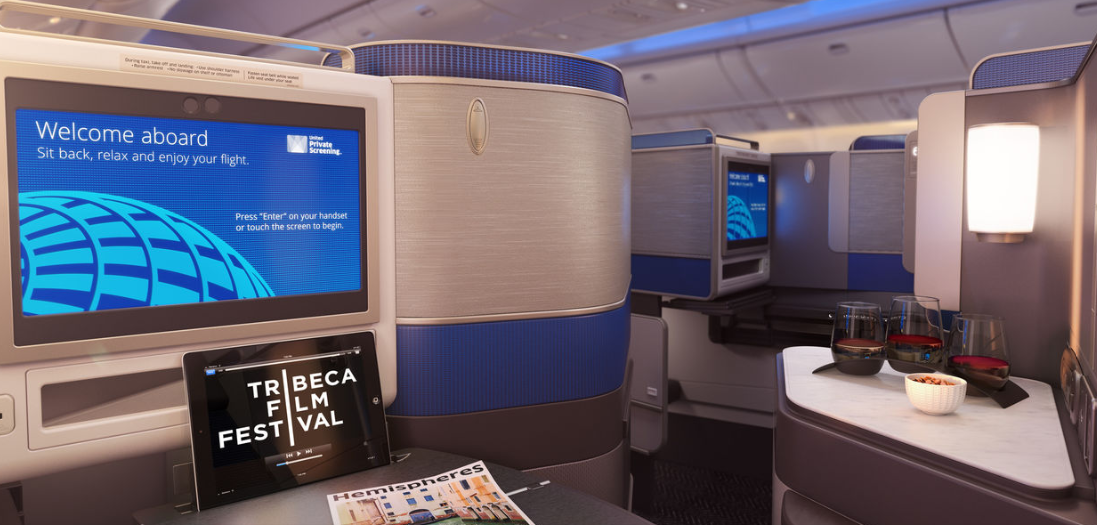 United said that each customer's personal suite will feature a "Do Not Disturb" sign, mood lighting, one-touch lumbar support, several storage areas, multiple surfaces for simultaneous working and dining, a 16-inch high-definition entertainment screen and, for seats in the center of the cabin, electronic privacy dividers.
An exclusive portfolio of United Polaris business class lounges will also be opening in nine locations around the world. They will feature custom-designed chairs, private daybeds, spa-like showers and hot meals served in a boutique restaurant.
The United Polaris business class seat will first take flight in December on Boeing 777-300ER aircraft and subsequently on Boeing 787-10 and Airbus A350-1000 aircraft, as well as on Boeing 767-300 and 777-200 retrofits.
The first new United Polaris lounge will open at Chicago O'Hare International Airport on Dec. 1, 2016. Lounges in eight other locations – Los Angeles, San Francisco, Houston, New York/Newark, Washington Dulles, Tokyo Narita, Hong Kong and London Heathrow – will open sometime next year.