The US chemical industry is forecast to have a good year ahead, as the production of natural gas and shale increase and boost exports, leading to greater domestic investment, economic growth and employment within the business of chemistry, says the American Chemistry Council in its new report Year End 2014 Chemical Industry Situation and Outlook.
According to the Chemical Activity Barometer (CAB), released today by the American Chemistry Council (CAB), the US economy is forecast to expand moderately in 2014, "supported by activity within the domestic chemicals sector."
The Chemical Activity Barometer, an established and well respected economic indicator, has been demonstrated to lead US business cycles by an average of 8 months at cycle peaks and four months at cycle troughs.
The CAB registered a reading of 93.9 in December, an increase of 0.1% over November on a 3-month moving average basis. December marks the 8th successive monthly increase for the CAB, which stands 2.8% higher than 12 months ago.

(Source: American Chemistry Council.)
American chemical industry back in the game
Dr. Kevin Swift, ACC's chief economist, said:
"American chemistry is back in the game. After a decade of lost competitiveness, American chemistry is reemerging as a growth industry. We're seeing growing end-use markets; strengthening employment; surging exports; and an influx of tremendous capital investment."
"Put simply, the U.S. is now the most attractive place in the world to invest in chemical manufacturing."
Swift drew attention to several key data to illustrate the improvement in the American chemical industry:
Chemical industry shipments are expected to reach $1 trillion by 2018, a 25% increase compared to today.
The US chemical industry is seeing growing employment for the first time since 1999.
The US has moved from being a high-cost petrochemicals and resins producer to one of the lowest-cost producers today, thanks to the surge in natural gas liquids and shale gas supply.
The US chemical industry today exports more than it imports. Its trade surplus is expected to be approximately $2.8 billion in 2013, and is set to reach $30 billion by 2018, from nearly $300 billion in total exports.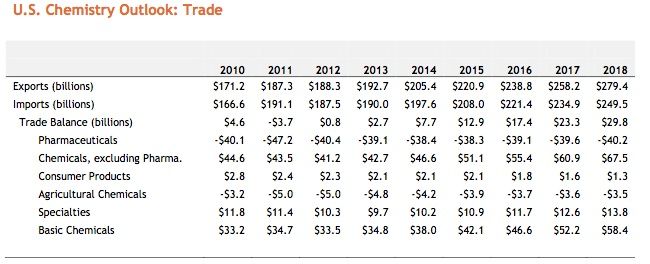 (Source: American Chemistry Council.)
Since the beginning of 2010 capital investment has been growing at double-digit rates. The ACC forecasts more than $60 billion in domestic investment over the next five years.