A better economic outlook combined with greater expectations of higher incomes have boosted consumer confidence in the United States in September, according to the Thomson Reuters/University of Michigan final index published on Friday.
Consumer confidence in September was the highest in seven years, and points toward renewed strength in personal spending.
The Consumer Sentiment Index in September was 84.6, compared to 82.5 in August and 77.5 in September 2013.
The whole of September's gain was concentrated in the Expectations index, which increased from 71.3 in August to 75.4. One year ago, the Expectations Index stood at 67.8.
The Current Conditions Index, however, fell to 98.9 in September from 99.8 in August. The authors pointed out that August posted the highest reading since July 2007.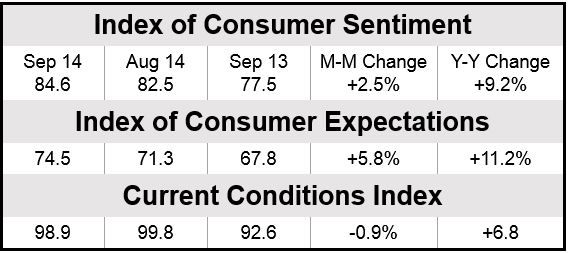 Source: Surveys of Consumers, Thomson Reuters and the University of Michigan.
The authors, however, wrote in the report "While the September rebound brought confidence back to its highest levels since the Great Recession, confidence has repeatedly failed to move above this level."
When people's income expectations improve, they are more likely to take on debts and spend more.
However, after a prolonged period of stagnant incomes, it will probably take repeated and cumulative gains to reverse the impact.
Job creation is the most important component for strengthening the economy for consumers. US households expect modest jobs growth in the year ahead, the survey found.
Most people in the survey, however, believe unemployment will not change much during the next twelve months.
People expecting to earn more
More households in September expected income gains in the next 12 months than at any time in the last six years (since September 2008).
The authors wrote:
"Just as importantly, the median increase of 1.1% expected by all households was the highest since late 2008. While still meager, this improvement, along with a decline in the expected inflation rate, meant that more households expected their income gains to keep pace or exceed the rate of inflation."
Surveys of Consumers Chief Economist, Richard Curtin, said:
"The defining aspect of the current recovery has been that optimism about future prospects has not improved in advance of actual economic gains. Typically, optimism generates increased spending which helps to improve current economic conditions. Surprisingly, an improved economy has not sparked renewed optimism, at least until recently."
"The renewal of income growth is particularly important for sparking increased consumer spending in the year ahead. Moreover, given the anticipated changes in monetary policy, strong income gains will be needed to bolster spending given the diminished positive role of household wealth."