The U.S. economy added 215,000 jobs in July, representing yet another strong month of job creation, while the unemployment rate held at a relatively low 5.3%.
The strongest areas for job gains included retail trade (+36,000), health care (+28,000), professional and technical services (+27,000), financial activities (+17,000), and manufacturing (+15,000).
The number of Americans employed part time for economic reasons (involuntary part-time workers) was little changed in July at 6.3 million, and the number of long-term unemployed (those who haven't had a job for 27 weeks or more) was almost unchanged at 2.2 million.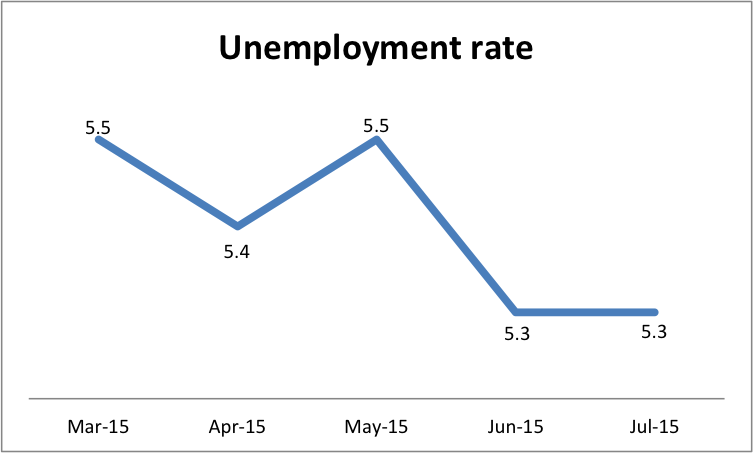 US unemployment rate. Source: Bureau of Labor Statistics
According to the Bureau of Labor Statistics, wage growth also improved. Average hourly earnings in the US ticked up by 5 cents to $24.99 in July after falling by a penny the previous month.
In addition, the average workweek for employees rose 0.1 hour to 34.6 hours in July.
So far this year monthly job growth has averaged 211,286, which indicates that employers are confident the economy will keep expanding. In fact, if this pace of job growth continues then the unemployment rate is expected to fall below the crucial 5 percent level towards the end of this year or in early 2016.
Results point to Fed hike later this year
The results have fueled speculation that the Federal Reserve will start raising interest rates in September.
Chris Williamson, chief economist at Markit, said:
"With the Fed's decision on the timing of the first rate rise 'data dependent', today's report does nothing to discourage the belief that a September hike is very much on the table, albeit by no means a done deal."
Sal Guatieri, a senior economist at BMO Capital Markets, said in a research note:
"Another solid jobs report suggests the economy is gaining strength and keeps the Fed on track to raise rates as early as the next meeting."
---