US GDP grew 4 percent (annualized) in the second quarter, surprising experts and more than making up for the 2.1% contraction during the first quarter, according to the data published by the Bureau of Economic Analysis. Economists had forecast GDP (gross domestic product) growth of about 3%.
Over a 12-month period, the economy expanded by 2.4%, marginally more than the 2.3% average annual increase from the start of the recovery to the end of 2013. The first quarter of this year was badly affected by abnormally severe weather conditions.
The Bureau said that Q2 GDP growth was driven by positive contributions from:
PCE (personal consumption expenditures), which accounts for about two-thirds of the US economy, grew by 2.5% (annual rate), compared to 1.2% in the first quarter.
Non-residential fixed investment increased by 5.5% from a 1.6% rise in the first quarter.
Residential fixed investment, i.e. spending on home building and improvements, grew at a 7.5% annualized rate after two quarters of decline.
State & local government spending increased at an annual rate of 1.6%. While Federal spending fell for the seventh successive month, this was more than offset by strong increases in state and local level spending.
Private inventory investment added 1.66 percentage points to growth, after contracting during the first quarter.
Imports, which are subtracted from the total when calculating GDP, increased by 11.7%.
Recovery still extremely slow
Despite the rebound, GDP growth during the first six months of 2014 so far falls well behind the economy's potential of between 2% and 2.5% growth most economists have estimated. The current recovery is the slowest since the Depression of the 1930s.
There is disagreement among economists about whether the US economy is now set to grow strongly and consistently, or whether the inventory gains, which tend to be volatile, do not provide enough compelling evidence of good things to come.
Even though leading indicators point to a growing and recovering economy, a Harris Poll showed that most Americans are still worried about several aspects of the overall economic picture.

(Data Source: Bureau of Economic Analysis)
The New York Times quotes economists at Barclays who are more optimistic and see the Q2 figures as a sign the economy is finally shaking off the post-recession sluggishness. They have forecast growth of 2.5% (annualized) for the second half of the year. Barclays senior economist Michael Gapen said "It isn't something people are going to get excited about but it does represent honest, real progress. It's not fake."
Prices increased at an annual rate of 1.9% during Q2 2014, compared to 1.4% in the first quarter. Over a 12-month period inflation stood at 1.6%. As the Federal Reserve Bank's inflation target is 2%, it is doubtful there is any thought of raising interest rates this year.
Excluding energy and food prices, the price index for gross domestic purchases rose 1.7% (annually) from 1.3% in the previous quarter.
Big rise in private sector employment
Payroll processing company ADP informed in its July ADP National Employment Report published today that private sector employment grew by 218,000 jobs from June to July.
Below is a breakdown of the June-to-July employment gains in the private sector:
Goods-producing employment: +16,000 jobs (compared to +43,000 the previous month).
Construction industry: +12,000 jobs (less than half June's gain).
Manufacturing: +3,000 jobs (less than one-third of June's gain).
Service-providing employment: +202,000 jobs (from +238,000 in June).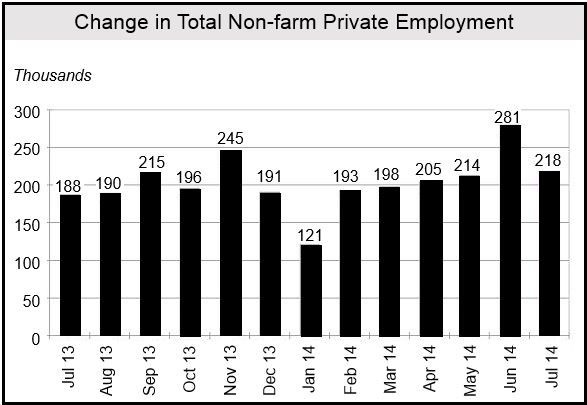 (Data source: ADP)
Carlos Rodriguez, President and CEO of ADP, said:
"Although down from June, the July jobs number marks the fourth straight month of employment gains above 200,000."
Chief economist of Moody's Analytics, Mark Zandi, said:
"The July employment gain was softer than June, but remains consistent with a steadily improving job market. At the current pace of job growth unemployment will quickly decline. Layoffs are still receding and hiring and job openings are picking up. If current trends continue, the economy will return to full employment by late 2016."
Video – Encouraging Q2 results for US economy