US GDP rose at a 1.9% annual rate in the fourth quarter of 2016, according to the US Commerce Department.
The figure was lower than what economists had forecast, of around 2.2% growth, and was a deceleration from the 3.5% growth in the previous quarter.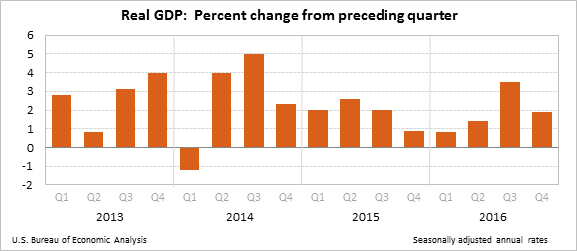 The deceleration reflected" a downturn in exports, an acceleration in imports, a deceleration in PCE, and a downturn in federal government spending that were partly offset by an upturn in residential fixed investment, an acceleration in private inventory investment, an upturn in state and local government spending, and an acceleration in nonresidential fixed investment," the Commerce Department said in a statement.
US exports dropped at a 4.3% rate in the fourth quarter, following the 10 percent increase logged in the third quarter, while imports rose 8% import. These factors combined sliced 1.7 points from GDP growth in the fourth quarter.
The increase in GDP in the fourth quarter "reflected positive contributions from personal consumption expenditures (PCE), private inventory investment, residential fixed investment, nonresidential fixed investment, and state and local government spending," the Commerce Department stated.
For the year, US GDP rose 1.6 percent – a full percentage point below the growth rate in 2015. Percentage point and percent are quite different : 5% is one percentage point more than 4%, but 5% is 25% more than 4%.
In an interview with the BBC, Nancy Curtin, chief investment officer at Close Brothers Asset Management, said the growth figure highlighted how the changing political climate in both the US and Europe "put a pinch on US growth".
Curtin was quoted by the BBC as saying: "Growth in jobs and the economy are the primary concerns of the new US administration and the levels of growth which have been talked about are very optimistic."
Adding: "With the president less than one week in office and with key global trade agreements, including with the UK, still yet to be decided, it will be a while before we start to see the true impact of Trumponomics."
President Donald Trump has pledged to boost GDP growth to 4%, by cutting tax rates and boosting spending on infrastructure.
The last time the US economy expanded at a rate higher than 4% was in 2000, when it expanded by 4.1%.