The US is pushing Japan for a free trade deal, saying that the timing is now to sort out the obstacles for a Trans-Pacific Partnership trade pact. Penny Pritzker, US Secretary of Commerce, who is on a trade mission in Japan, said "The timing is now for us to sort this out."
Ms. Pritzker described the time as "ripe" for the US and Japan to find a breakthrough in trade negotiations. The two nations are now much closer to a deal, she added.
According to the US Commerce Department, Ms. Pritzker met with Prime Minister Shinzō Abe as part of a trade mission she is leading to Japan and South Korea. She heads a US business delegation including representatives of 20 companies focused on the energy and health care sectors. This is her first official visit to Japan since taking office.
Japan and the US need to be "bold and creative", she added. Ms. Pritzker believes a summit between Mr. Abe and US President Barack Obama is becoming increasingly possible if the two sides move just a bit closer together.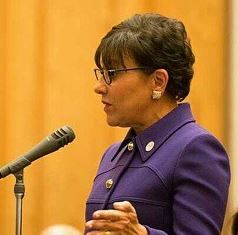 Secretary Pritzker says the timing is 'now' (Photo: US Commerce Department)
Both Obama and Abe are eager to sign the 12-nation pact. Before the broader deal is signed, the US and Japan must first reach an agreement. The other ten nations are reluctant to move forward until the two mighty economies sort out their differences.
Ms. Pritzker said at a news conference in Tokyo on Tuesday:
"President Obama is coming to the region. It's an opportunity for our leaders to be together. This is really about recognising the opportunity and the timing and the potential to move forward."
Even though President Obama says a TPP deal is possible by the end of 2014, most analysts believe his prediction is overly-optimistic.
In September, the two nations hit an impasse over farm exports, which put a giant dampener on any hopes of a resolution this year. The talks ended with each side blaming the other for the stalemate.
Agricultural products stalemate
Japan insists it must protect some sensitive agricultural products, including sugar, dairy and beef. The US wants all agricultural import barriers lowered.
A meeting in April 2014 in Tokyo which included Mr. Obama failed to reach agreement.
Ms. Pritzker said, referring to April's talks:
"I think you're a lot closer today to an agreement. I think given the political landscape in Japan and in the United States it seems that the timing is ripe and shaping up for us to get this done."
The US Commerce Department wrote:
"Secretary Pritzker commended Prime Minister Abe on his commitment to reform throughout his two years in office, and noted that American businesses are eager to partner with Japan in the country's ongoing efforts to reform and strengthen its health care and energy sectors. She also praised Prime Minister Abe for his vision in entering the Trans-Pacific Partnership negotiations, and she discussed the need for the U.S. and Japan to be creative and bold as the countries enter the final stages of the negotiations.  Prime Minister Abe also expressed his desire to complete an ambitious, high-standard agreement as soon as possible."