The US Federal Energy Regulatory Commission has approved the construction of Energy Transfer Partners LP's $4.2 billion Rover natural gas pipeline from Pennsylvania to Ontario, Canada.
The Texas-based company submitted a request for approval of the interstate pipeline in 2015.
The pipeline will transport up to 3.25 billion cubic feet per day from processing plants in West Virginia, eastern Ohio and western Pennsylvania for delivery to the Midwest Hub near Defiance, Ohio, and markets in Michigan via an interconnect near Livingston County. Natural gas not delivered to these markets will be transported to a natural gas storage center in Ontario, Canada.
Proponents of the pipeline argue that it will keep prices kept in balance and make the United States more independent of foreign energy.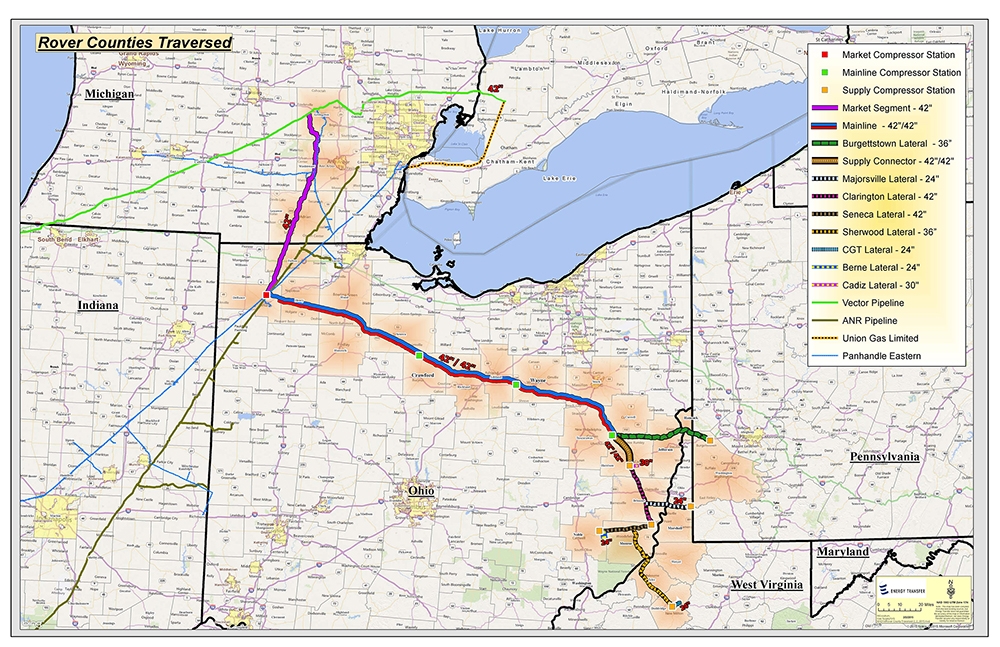 With the green light to go ahead, Rover anticipates it can meet its targeted in-service goals of July 2017 for Phase I and November 2017 for Phase II.
Analysts at U.S. financial services firm FBR & Co told Reuters that "failure to issue the Rover permit could have delayed the project by a year due to seasonal construction constraints."
Heightened pressure to approve pipelines 
There's been pressure over the past week, since FERC leadership changes, for the regulator to hurry up and make decisions on proposed gas pipelines to avoid delays in development. President Donald Trump appointed Cheryl LaFleur as acting chair prompted commissioner Norman Bay to announce his resignation on Feb 3., leaving the agency without the quorum to make big decisions.
A quorum is the minimum number of people or members who must be present for decisions to be valid or binding.
Tulsa, Oklahoma-based Williams Companies,  which focuses on natural gas processing and transportation, also won approval from the Federal Energy Regulatory Commission on Friday, just hours before the scheduled resignation of commissioner Norman Bay, to build its $3 billion Atlantic Sunrise natural gas pipeline expansion in the Northeast.