The US wealth gap has widened, says the Federal Reserve in a new report, with the richest Americans enjoying 10% pre-tax income gains during the economic rebound while median earnings declined for everybody else.
The Fed's Survey of Consumer Finances reported that from 2010 to 2013, median income adjusted for inflation increased by 2% to $223,200 for the richest 10% of households. For the bottom three quintiles (bottom 60%), however, median incomes declined significantly, as they had done during the 2007-2010 period.
During the economic recovery, household wealth and incomes have become progressively stratified, partly due to growth in the housing and stock markets that have been bolstered by the Federal Reserve's stimulus program.
For workers though, progress has been painfully slow, with salaries remaining unchanged for a large proportion of them.
According to the Survey, most of the current widening wealth gap is due to the shifting nature of work in the US today.
The labor market has grown at the poles, with new jobs being created more rapidly at the highest and lowest skill levels, compared to opportunities in the middle.
The authors said there was little change in the average pay for middle- and upper middle-class households. "(They) failed to recover the losses experienced between 2007 and 2010," they wrote.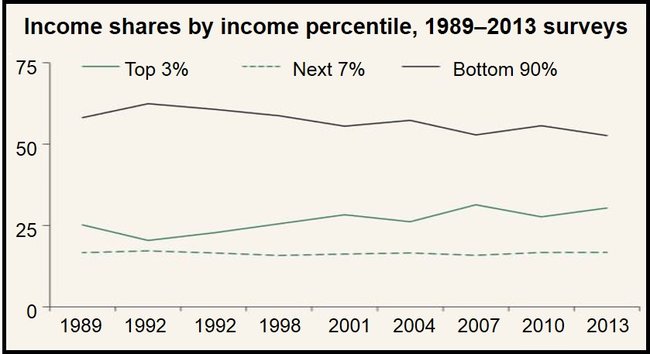 (Data source: Federal Reserve)
Low-skill jobs
A growing number of low-skill jobs have either been replaced with technology or disappeared altogether, leaving more people competing in that employment market, resulting in weak wage growth.
Average hourly pay for production and non-supervisory employees increased by just 6% in the 2010-2013 period, while the mid-point income for all families declined by 5%.
Back to the pre-recession trend
The richest 3% of households saw their share of total income increase from 27.7% in 2010 to 30.5% in 2013, while the bottom 90% received a smaller share. This shows a return to the trend before the Great Recession, Fed economists say.
During the recession the wealth gap narrowed.
The growing wealth gap has gained increasing interest from economists and policy makers in the US and abroad. It is not a trend exclusive to the America, but to all the advanced economies.
In January, over 700 global experts warned that the widening wealth gap has the potential to cause considerable damage globally.
In May, an OECD report showed that increasing wealth inequality has been present in the majority of the developed nations for the last three decades, with the top 1% of earners capturing a progressively more disproportionate share of national income growth.
---
Video – Income Inequality
Income inequality (income gap) highlights the gap between the top, middle, and bottom earners in the world, a country, or region.
---