Virgin Galactic sent its first test passenger to the edge of space aboard the SpaceShipTwo VSS Unity on Friday, a major milestone for space tourism.
It was the fifth powered test flight and second space flight of Virgin's commercial SpaceShipTwo, VSS Unity.
A WhiteKnightTwo carrier airplane, VMS Eve, took off shortly after 8 a.m. PST from the Mojave Air at Space Port in California. The carrier released the VSS Unity passenger craft at an altitude of about 44,000 feet.
SpaceShipTwo, welcome back to space 🚀 🌎 pic.twitter.com/5pboTQeRjI

— Virgin Galactic (@virgingalactic) February 23, 2019
The flight reached a height of 55.8 miles (89.9 km) – the highest the vehicle has reached yet. The spacecraft reached a top speed of three times the speed of sound during the test – the fastest ever for Virgin Galactic.
The company's chief astronaut instructor, Beth Moses, was Virgin Galactic's first test passenger.
She flew along with Chief Pilot Dave Mackay, who is now the first Scottish-born astronaut, and co-pilot Michael "Sooch" Masucci.
Moses had the task of evaluating the customer experience and cabin. According to Virgin Galactic, Beth floated freely onboard the commercial spaceship (without restraints) to complete a number of cabin evaluation test points. 
Addressing colleagues and guests Dave said:
"Beth, Sooch and I just enjoyed a pretty amazing flight which was beyond anything any of us has ever experienced. It was thrilling yet smooth and nicely controlled throughout with a view at the top, of the Earth from space, which exceeded all our expectations.
"I am incredibly proud of my crew and of the amazing teams at Virgin Galactic and The Spaceship Company for providing a vehicle and an operation which means we can fly confidently and safely. For the three of us today this was the fulfillment of lifelong ambitions, but paradoxically is also just the beginning of an adventure which we can't wait to share with thousands of others."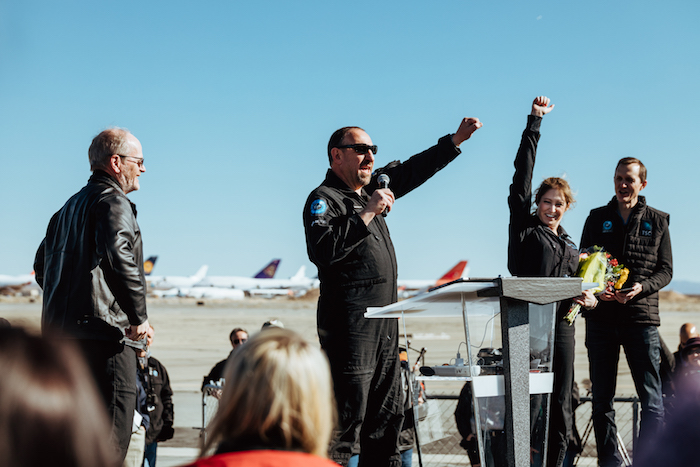 Billionaire Sir Richard Branson, founder of Virgin Galactic, commented:
"Flying the same vehicle safely to space and back twice in a little over two months, while at the same time expanding the flight envelope, is testament to the unique capability we have built up within the Virgin Galactic and The Spaceship Company organizations.
Branson added: "I am immensely proud of everyone involved. Having Beth fly in the cabin today, starting to ensure that our customer journey is as flawless as the spaceship itself, brings a huge sense of anticipation and excitement to all of us here who are looking forward to experiencing space for ourselves. The next few months promise to be the most thrilling yet"
Branson's Virgin Galactic space program is competing with other ventures such as Blue Origin, the space business of Jeff Bezos, and Elon Musk's SpaceX, to be the first to take tourists up into space.
Branson plans on being the first passenger on SpaceShipTwo's first commercial flight in mid-2019.
So far over 600 people, including celebrities Canadian singer Justin Bieber and actor Leonardo DiCaprio, have paid or put deposits down for a suborbital flight trip with Virgin.