Volkswagen has appointed Matthias Mueller as the company's new chief executive amid a huge emissions test cheating scandal that will cost the company billions of dollars in fines.
The world's largest automaker recently admitted that it cheated on emissions tests in the US.
Hundreds of thousands of VW cars sold in the US with diesel engines had so-called "defeat devices" capable of detecting when a vehicle was being tested to alter its performance and make it seem more efficient than it really was.
In its investigation the US Environmental Protection Agency (EPA) found that 482,000 cars in the US had these so-called "defeat devices" and VW recently admitted that approximately 11 million cars around the world are fitted with defeat devices.
Mueller's top priority is to win back public trust
Mr Mueller said that his top priority is to restore Volkswagen's reputation: "My most urgent task is to win back trust for the Volkswagen Group – by leaving no stone unturned and with maximum transparency, as well as drawing the right conclusions from the current situation."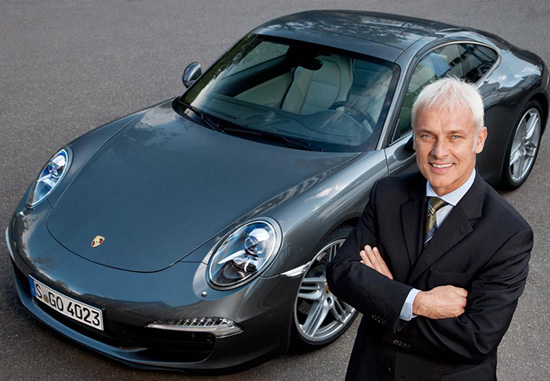 Matthias Mueller was President and CEO of VW's Porsche subsidiary for over five years.
Mueller went on to say that he will tighten up procedures at the company: "At no point was the safety of our customers in danger. We will now have even stricter compliance. Our objective is that the people continue to use and drive our vehicles with confidence and pleasure. That's 80 million people driving our cars worldwide."
Acting VW chairman Berthold Huber issued an apology to customers, in which he said: "I want to be very clear, the manipulation of tests for diesel engines is a moral and political disaster".
Berthold Huber called Matthias Müller "a person of great strategic, entrepreneurial and social competence. He knows the Group and its brands well and can immediately engage in his new task with full energy. We expressly value his critical and constructive approach."
Bernd Osterloh, Chairman of the Group Works Council, commented: "When it comes to leadership appointments the Volkswagen Group does not need hasty decisions. We know and value Matthias Müller for his determination and decisiveness. He does not work on his own, rather he is a team player. That is what Volkswagen needs now."
EPA to conduct further emissions tests on diesel cars
The agency said it will now be conducting further emissions tests on diesel cars across the board.
Christopher Grundler, director of the EPA Office of Transportation & Air Quality, said: "Today we are putting vehicle manufacturers on notice that our testing is going to include additional evaluation and tests designed to look for potential defeat devices,"
"We're not going to tell them what these tests are. They don't need to know."