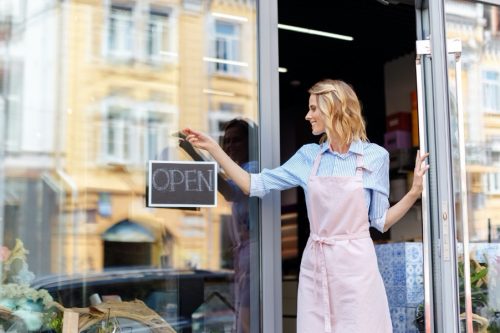 With the internet booming, it can seem impossible for business owners to entice customers to come and buy products in person. But just because the digital world is thriving doesn't mean that physical stores are doomed. There are plenty of things you can do to improve your chances of selling physical products on the high street, you just have to have a little bit of knowledge and a solid strategy. To get started, check out this list:
Accept card payments in store
If you haven't invested in a MagTek card reader yet then it's high time you do. You may not have realised it, but your 'cash payments only' sign outside is probably deterring a whole lot of customers. Not as many people are carrying cash as they used to, instead opting to use Apple Pay or a credit card. It's secure, convenient, and accepted everywhere, so make sure you join the trend as soon as you can. This is especially true for shops selling expensive items, as it's unlikely that customers will be carrying a large amount of cash even if they do have a few notes of coins in their pocket.
Renovate and decorate
Customers are much more likely to visit a shop that looks modern and well-presented. You don't necessarily need to spend a lot of money on renovations, but a lick of paint, some new furniture and a carefully arranged window display can make all the difference. If you don't have much of an eye for design, ask a specialist to give you some pointers or look for inspiration on sites like Pinterest. You may be able to do everything even cheaper if you don't mind a bit of DIY and upcycling.
Improve accessibility
Ideally, your shop should be as accessible as possible for people with all kinds of accessibility needs. If possible, try to even out your flooring to reduce trip hazards and offer a ramp or lift as well as stairs. It can also be good to advertise that you're happy to accommodate people with disabilities, especially if they approach you and explain how you could better assist them. To go the extra mile, consider having pamphlets of information written in brail or learn sign language to better serve the deaf community in your local area.
Hold a sale
People are used to seeing sales online, but advertising an exclusive in-store sale could encourage people to visit you in person. If a sale won't work for you at this time, consider offering people a small voucher or even simply allowing them to collect online purchases in-store for free to increase foot traffic. Alternatively, you could have a special free gift on offer that customers will only receive when they purchase products in-store. Little incentives like this can entice people to come and see your shop, potentially increasing your sales in the process.
If foot traffic is falling in your shop, don't lose hope – take action. Get started today with the advice in this blog.
---
Interesting Related Article: "Top Retail Marketing Strategies To Try In-Store"