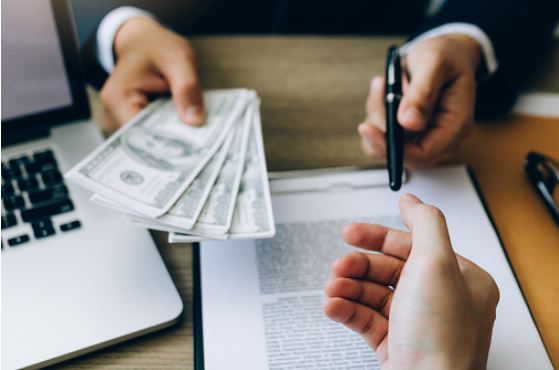 If you need money in a hurry and a traditional loan won't work for you, a cash advance might be the best option. There are many choices for cash advances available, and it's important that you consider your options before deciding. 
Here's what you need to know about how cash advances work and what you should consider when choosing the best for you. 
How cash advances work
A cash advance is a short-term personal loan, typically given for a smaller amount than a traditional loan. It's designed to help you out if you don't have enough money to get you through to your next payday. Often, cash advances are used to pay unexpected bills or cover emergencies.
You can apply for a cash advance online or in person. The lender will quickly assess your financial situation to determine your ability to repay the loan. The good news here is that if your credit is low or poor, that might not matter. Some lenders may consider other factors, such as your employment history and income when determining whether to approve you.

If you're approved, you can access the money almost immediately. You'll either write a post-dated check (this is a check that can only be cashed in the future) or sign an agreement giving the lender the authority to withdraw the amount of the loan plus any fees from your account on the due date.

If you pay the loan back before the due date, the lender won't cash the check or withdraw the money from your account. If you don't pay the loan back in time, they will. 
To apply for a cash advance, you generally only need to show proof of income, valid identification, proof of a valid checking account, and an email address if you apply online. 
Factors to consider when comparing cash advances
Because there are so many options, it's important that you shop around to find the best cash advances for you. 
Consider
How much money you need:

Don't borrow more than you need. Otherwise, you could find yourself paying a lot in unnecessary interest. 

What their additional fees are:

Different lenders charge varying administrative fees, and you don't want to pay extra money if you don't have to. Before you agree to a cash advance, ensure you're clear on what fees you'll be charged.

What their interest rates are:

Lenders charge different interest rates, too. Find one that fits your budget.

What is the overall cost of the loan:

The way fees are structured can vary; it can be challenging to understand how much you'll pay back compared to how much you're borrowing. Look at the numbers and calculate exactly how much you'll have to pay when the loan is due. 

What the consequences are if you can't pay the loan back:

Some lenders allow you to pay a fee and roll over the cash advance to the next month, but you'll also pay interest on the amount carried forward. Be sure you understand what happens if you can't repay the loan when it's due. 
The bottom line
Cash advances are a valuable financial tool when you need money quickly. Before applying for anything, consider several options and find the one that best suits your needs and budget. Borrow only what you need and pay the cash advance back by the deadline.
---
Interesting Related Article: "Common Reasons Loans Are Rejected"