Many economists, political scientists and lawmakers believe US natural gas could smash Russia's energy dominance in Europe, and seriously undermine its ability to bully other countries. Jaroslav Neverovic, Lithuania's Minister of Energy has urged the United States to accelerate its natural gas exports to Europe.
Lithuania is 100% reliant on its neighbor Russia for its natural gas supplies. Neverovic says his country is having to pay a "political price" for its dependence.
There is a growing call from both within and outside the US to ease its restrictions on the exports of natural gas since Russia's annexation of Ukraine. Only the US has the capacity to smash Russia's dominance in this sector.
US natural gas tied to 75-year-old law
Neverovic said in his statement to the US Senate Committee on Energy and Natural Resources:
"We have a common democratic visions; we share the same values in international relations. But, despite our unwavering commitment to those principles and ideals, a law enacted in your country some 75 years ago denies us access to your abundant and affordably priced energy resources."
"Let's change this strange situation. In the spirit of allies let the energy strengthen and deepen our strategic cooperation. At present, we are completely – 100% – dependent upon a single supplier of natural gas and, as a result, are forced to pay a political price for this vital energy resource. Lithuanian families and businesses pay 30% more for natural gas than citizens in other European countries. This is not just unfair. This is abuse of (Russia's) monopolist position."
Neverovic went on to say that Lithuania is set to take steps to become energy independent. To help his country achieve its aim, he urged the US to expedite the release of some of its natural gas resources into the world market, especially for those that have to live under the mercy of Russia for its supplies.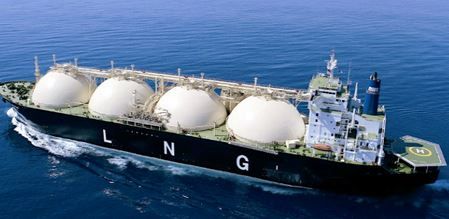 If US liquified natural gas (LNG) were sold to European nations, America and Europe would both benefit, and Russia's energy dominance in the region would end.
Countries need more than one supplier of energy
Neverovic quoted US Vice President Joe Biden, who said recently in Lithuania "We have learned the hard way that protecting the sovereignty of nations depends on having more than one supplier of energy."
The Lithuanian leader explained that if America entered the global natural gas market, everybody would win – America and its clients. The US would create more jobs, its economy would grow faster, and the federal government would have more income. European customers across Europe would have access to clean, reasonably-priced US natural gas. The only loser would be Russia, a country that tends to sell energy and bully customers.
Neverovic ended his address to the US Senate Committee with the following statement:
"The present situation in Ukraine has taught us all one lesson – no nation should be able to use its monopolistic energy supplies to punish any other nation. So, in conclusion, my message to you is simple. Let's work together to let competition in, push the monopolists out, and bring natural gas prices down in Europe as they have come down in America."
Current sanctions not enough
The US and the European Union have imposed some limited sanctions for annexing Crimea illegally. A number of people in Russian President Vladimir Putin's inner circle have had their assets frozen and now face visa bans, and some banks have been penalized.
Investors have responded by taking their money out of the country. Russia's deputy economics minister, Andrei Klepach, predicts that up to $70 billion dollars will have left the country by the end of Q1 2014. The ruble has fallen and Moscow's stock market has declined.
Many politicians, diplomats and economists say the sanctions imposed so far are unlikely to stop Russia in its alleged quest to regain possession of some territories it used to have during the Cold War. What would really hurt, they say, would be to hit at its natural gas exports.
David Montgomery, senior vice president at NERA Economic Consulting, told the US Senate's Committee on Energy and Natural Resources that if the US started selling gas to European countries, Russia's revenues from natural gas could fall by 30% in the short term and 60% later on.