Microsoft's Windows 10 outperformed Valve's SteamOS in a series of benchmark tests carried out by Ars Technica. 
The results of the tests showed SteamOS lagging behind Windows 10 when running the same hardware.
Several performance tests were carried out using games such as 'Metro: Last Light' and 'Shadow of Mordor'.
When running SteamOS the games produced 21- to 58-percent fewer frames per second (depending on the graphical settings) compared to Windows 10.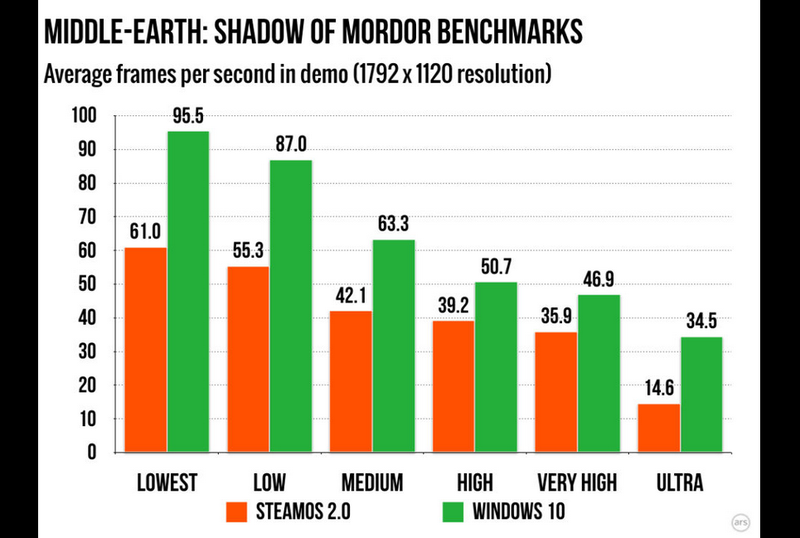 Source: Ars Technica (for more images of the test results click here) 
Surprisingly, Valve's own games were also found to perform better on Windows compared to SteamOS. The report said: "Portal, Team Fortress 2, and DOTA 2 all took massive frame rate dips on SteamOS compared to their Windows counterparts."
The test rig had a dual-core 3GHz Pentium with an old GeForce GTX 660.
The foundation of SteamOS is Linux, which could be one of the main reasons behind SteamOS's lackluster performance.
Games and video card drivers are not as optimized for Linux as they are for Windows – which has a direct impact on performance.
Kyle Orland, Senior Gaming Editor at Ars Technica and author of the report, concluded:
"Hopefully, Valve and other Linux developers can continue improving SteamOS performance to the point where high-end games can be expected to at least run comparably between Linux and Windows. Until then, though, it's hard to recommend a SteamOS box to anyone who wants to get the best graphical performance out of their PC hardware."
What is SteamOS?
SteamOS, created by Valve, is primarily for playing games in the living room. The OS doesn't have a vast range of built-in functions, mainly focusing on web browsing and playing games. There may be more in store for the operating system, with Valve previously saying that it was in talks with streaming companies such as Spotify and Netflix to add their features to SteamOS.
However, it's mainly for gaming, and this is what makes the results of the performance tests so significant. If SteamOS is primarily marketed for gamers then Valve has to find a way of improving it so that it can, at the very least, match Windows 10.
---
Reference: Ars Technica, "SteamOS gaming performs significantly worse than Windows, Ars analysis shows", Kyle Orland, Nov 13, 2015
---