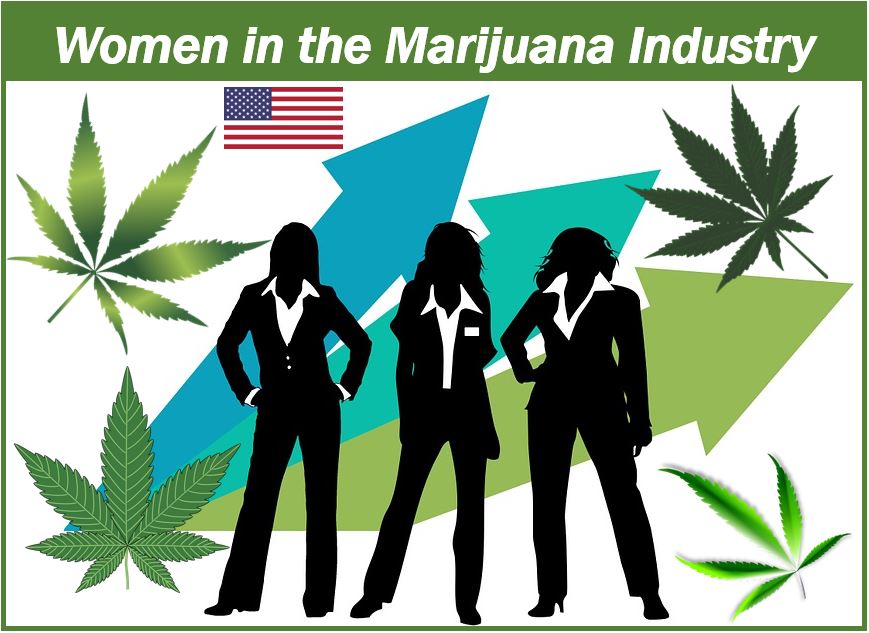 The legal pot industry has paved the way for women to have an opportunity to assume leadership roles for themselves. In a 2017 survey, the US cannabis industry was composed of about 26.9 percent of women executives. Approximately, the national average of women executives across US businesses is only 23 percent.
Thus, women holding an executive position in the cannabis industry are way higher than women executives in various businesses nationwide. Although, in 2015, women holding executive positions in the cannabis industry, particularly in the pot dispensary business, are greater at about 36 percent, than in 2017 at almost 27 percent. Notwithstanding, according to some experts, it is still a good number.
Women Supporting The Marijuana Industry
Here is a list of women supporting the marijuana industry, observed in 2019 (only arranged alphabetically, but not considered as ranking):
Maria Belen Algorta, Agronomist & Uruguay representative, Ecofibre Limited
Vivien Azer, Managing Director, and senior research analyst, Cowen and Co.
Jessica Billingsley, CEO, MJ Freeway
Debra Borchardt, CEO, and editor in chief, Green Market Report
Kara Bradford, co-founder, and CEO, Viridian Staffing
Diana Roberts Coats, director of plant science, JBE Industries
Jill Ellsworth, founder, and CEO, Willow Industries
Lori Ferrara, Gaynell Rogers, and Lindy Snider, founders, Treehouse Global Ventures
Renee Gagnon, CEO, Hollywood North Cannabis
Naomi Granger, co-founder, and chief financial officer, Dope CFO
Sara Gullickson, CEO, Item 9 Labs Corp.
Jess Henson, director of data and insights, Acreage Holdings
Jeannette Ward Horton, executive director, and co-founder, NuLeaf Project
Brianna Kilcullen, Founder, and CEO, We the People
Amy Margolis, attorney and founder, The Initiative and The Commune
Tahira Rehmatullah, chief financial officer, Akerna
Bibiana Rojas, country manager director, Spectrum Cannabis Colombia
Diane Scott, chair and CEO, Jamaican Medical Cannabis Collective
Jeanette VanderMarel and Alison Gordon, co-CEOs, 48North
Women In The Marijuana Industry
The cannabis market is developing swiftly and has produced some fantastic and influential female leaders. These women are pushing for one advocacy, the universal legalization of marijuana.
In the past, it is scarce for women to propel change, spearhead groundbreaking research, or head some of the pot dispensary networks in the US and Canada. Nowadays, the opposite is true.
Belowis the list of influential women with considerable contributions in the marijuana industry:
OPHELIA CHONG
She started StockPotImages.com, a website dedicated to explaining the complexity yet outstanding benefits of marijuana. In here, she documented the lifecycle of the plant, as well as its benefits. Chong pushed for change with the way we think about cannabis. She describes marijuana as a naturally majestic organism, and she wants to remove the negative stigma associated with marijuana.
NANCY WHITEMAN
Whiteman owns a company (Wana Brands), which is the number one producer of edibles, extract, and medicinal cannabis. With its tremendous success, Wana Brands (now in six states) is growing even more significant and contemplates expansion plans in other countries this year. This is the reason why she was tagged as "the Queen of Legal Weed."
DR. CRISTINA SANCHEZ
Dr. Sanchez has been researching cannabis way before the onset of the medical marijuana acclaim. The effectiveness of CBD as an antioxidant was tackled by her before today's science, proving it.
JAZMIN HUPP
Jazmin Hupp has been an open advocate in harnessing the cannabis' medicinal benefits. She co-founded Women Grow organization, together with Jane West. Featured several times in various prominent magazines (such as The Economist, Fortune, and Forbes), Hupp is considered as one of the most influential women in the industry today.
JANE WEST
West, the business partner of Jazmin Hupp, remains to be determined and still fighting for her advocacy. This is even after losing her job as a "corporate event planner" in CNBC; where she was caught by her boss vaping inside the company's premises. Now, she is one of the women pioneers in the marijuana industry.
AMBER E. SENTER
Supernova Women's co-founder, Amber Senter, encourages people of color to dive into the legal cannabis business. Her own company, Leisure Life, which is popular in the Bay Area, offers cannabis-infused popcorn. Senter's organization run almost similarly to Women Grow, using cannabis advocacy, education, and networking.
JODIE EMERY
Jodie Emery, is another influential cannabis advocate, activist, and politician in the industry. She and her husband put up a business known as Emery Empire (which includes Cannabis Culture weed magazine, Pot TV, dispensaries franchises, and head shops). Her passionate feeling about the advocacy stems from her condescension towards the current legal system.
AMANDA REIMAN
Amanda Reiman is the Manager of Marijuana Law and Policy for the Drug Policy Alliance (DPA). Her significant contribution has been most influential in the drug policy changes all over the US. Reiman is still conducting studies in support of cannabis.
Celebrity Women Supporting And Promoting The Cannabis Industry
There's an ongoing exhilaration among women when it comes to supporting and promoting the cannabis industry. So it is no longer shocking to know that Whoopi Goldberg is not the only popular women celebrity to openly support marijuana.
Most of these celebrities that support and promote cannabis argue that there's nothing wrong with smoking pot. They admit to using weed, although not regularly. Most of them firmly believed that marijuana should be legalized due to its therapeutic benefits.
Below are today's famous female celebrities that have openly admitted using weed and supporting its legalization.
Rihanna
Jennifer Aniston
Miley Cyrus
Melissa Etheridge
Megan Fox
Lady Gaga
Susan Sarandon
Further reading: What is cannabidiol?