After a sluggish two years, the world trade forecast for 2014 predicts growth of 4.7% and 5.3% for 2015, according to the WTO (World Trade Organization). Over the last two years growth has only averaged 2.2%, compared to 5.3% over the last two decades.
Weak trade growth in 2013 was due to poor import demand in the advanced economies (0.2%) and "moderate import growth" in the emerging markets and other developing nations (4.4%).
Both advanced and emerging markets only managed 1.5% and 3.3% growth respectively in exports.
World trade growth sluggish over last two years
WTO Director-General Roberto Azevêdo said:
"For the last two years trade growth has been sluggish. Looking ahead, if GDP forecasts hold true, we expect a broad-based but modest upturn in 2014, and further consolidation of this growth in 2015. It's clear that trade is going to improve as the world economy improves. But I know that just waiting for an automatic increase in trade will not be enough for WTO Members."
"We can actively support trade growth by updating the rules and reaching new trade agreements. The deal in Bali last December illustrates this. Concluding the Doha round would provide a strong foundation for trade in the future, and a powerful stimulus in today's slow growth environment. We are currently discussing new ideas and new approaches which would help us to get the job done – and to do it quickly."
A number of factors contributed toward the poor 2013 trade and output figures, including:
The lingering impact of the European Union recession.
Exceptionally high unemployment rates in the Eurozone, with the exception of Germany.
Doubts regarding the timing of the US Federal Reserve's bond-purchase taper. The uncertainties also contributed to financial volatility in the emerging nations during the second half of 2013.
World trade growth for 2013 of 2.1% is a preliminary estimate, and refers to the average of merchandise imports and exports in volume terms, i.e. adjusted to take into account differences in exchange rates and inflation levels across nations. It is a lower figure than the WTO's most recent world trade forecast of 2.5% growth for 2013.
The main reason for the difference between the WTO's last forecast and the preliminary estimate was a larger-than-expected fall in developing nations' trade flows during the last six months of 2013.
Global trade and global GDP growing at similar rates
For two years running, global trade has expanded at approximately the same rate as world gross domestic product (GDP) at market exchange rates, rather than at twice the rate, which is normally the case.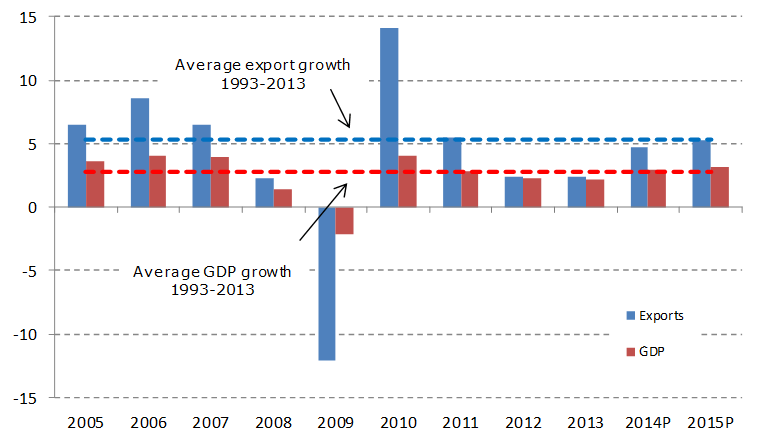 Growth in the volume of world merchandise trade and GDP, 2005-15, % change. (Source: WTO)
According to recent industrial production data and business surveys, the economic rebound in the US and Europe in early 2014 has been "firming up." America's gradually improving unemployment data have allowed the Fed to go ahead with its planned tapering of QE3 (third round of quantitative easing).
The EU's economic outlook has improved, but the recovery will remain uneven with the peripheral economies underperforming compared to the core ones.
The implementation of fiscal consolidation in Japan this year will probably slightly reduce output growth.
Emerging markets, including China, should continue to see GDP and trade growth superior to those registered in the advanced economies for the rest of 2014. However, some developing economies may encounter setbacks, especially the ones most exposed to the recalibration of monetary policy in the advanced economies.
Export prices fell
World merchandise exports increased 2.1% in 2013 to $18.8 trillion, slightly less that the WTO's forecast of 2.4%, suggesting that export prices fell slightly from 2012 to 2013. In the meantime, the value of global commercial services exports increased 5.5% to $4.6 trillion.
The WTO wrote:
"The trade forecast for 2014 is premised on an assumption of 3.0% growth in world GDP growth at market exchange rates, while the forecast for 2015 assumes output growth of 3.1%. Note that the GDP figures are consensus estimates and are not WTO projections. Risks to the trade forecast are still mostly on the downside, but there is some upside potential, particularly since trade in developed economies is starting from a low base."
"However, volatility is likely to be a defining feature of 2014 as monetary policy in developed economies becomes less accommodative."
Risk factors in advanced and emerging economies
Since the WTO's press release in 2013, some advanced economy risk factors have receded significantly, including fiscal brinkmanship in the US and the sovereign debt crisis in the EU.
Several old and new risks have become apparent in some developing economies, including currency crises (Argentina), large current account deficits (India, Turkey), overinvestment in productive capacity, and rebalancing economies so that they rely less on exports and more on domestic consumption.
Geopolitical risks – territorial disputes and civil conflicts in Eastern Europe, Asia and the Middle East could push up energy prices and disrupt trade flows if they intensify. As geopolitical risks are inherently unpredictable, the WTO has not considered them directly into its forecasts.