The world's first commercial flight powered by renewable, alternative biojet fuel made from wood waste took place recently in the United States.
The plane, belonging to Washington state-based Alaska Airlines, flew from Seattle-Tacoma International Airport to Reagan National Airport in Washington, D.C. on Monday.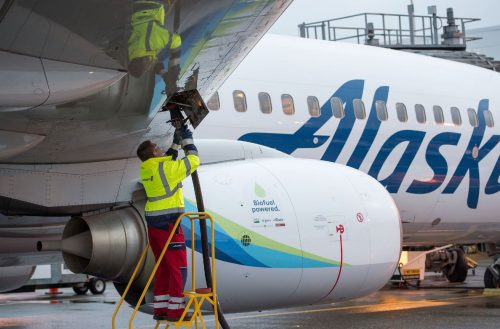 The jet plane, powered with biojet fuel made from forest residuals, flew from Seattle-Tacoma International Airport. Photo: Robert Hubner, WSU Photo Services
The fuel used to power the flight is a 20 percent blend of sustainable aviation biojet fuel made from cellulosic sugars derived from forest residuals – the limbs and branches that are left over and often burned after timber harvesting of managed forests.
The biojet fuel – which is chemically identical to regular jet A fuel – is the work of the Northwest Advanced Renewables Alliance (NARA).
Led by Washington State University (WSU), NARA is an alliance of 32 public universities, government laboratories, and private enterprises in the Pacific Northwest region of the U.S.
Creating a biojet fuel and bioproduct industry in the Pacific Northwest
The flight marks a significant milestone for NARA, made possible by a $39.6 million grant from the U.S. Department of Agriculture National Institute of Food and Agriculture (NIFA).
The grant was awarded for funding research on biofuels and biochemicals, help build supply chains, stimulate rural economic development, and educate the public about bioenergy.
Ralph Cavalieri, NARA executive director, says the alliance and its partners have helped to generate a biojet fuel and bioproduct industry in the Pacific Northwest from forest residuals that would otherwise become waste products.
Joe Sprague, senior vice president of communications and external relations at Alaska Airline says:
"This latest milestone in Alaska's efforts to promote sustainable biofuels is especially exciting since it is uniquely sourced from the forest residuals in the Pacific Northwest."
---
---
Biojet fuel made from cellulosic sugars from wood waste
One of the NARA partners, Gevo Inc., a leading renewable chemicals and advanced biofuels company, adapted its patented technologies to convert cellulosic sugars from wood waste into renewable isobutanol, which is then converted to Gevo's Alcohol-to-Jet (ATJ) fuel.
ATJ conforms with American Society for Testing and Materials (ASTM) D7566 standards – ensuring it is safe for use in commercial aircraft.
The flight on Monday follows two other commercial Alaska Airlines flights in June this year that were powered by Gevo's ATJ made using sustainable corn as the sugar feedstock.
Pat Gruber, Gevo's CEO, says:
"We are pleased that we had the opportunity to prove, through the NARA project, that cellulosic sugars from wood can be used to successfully make commercial jet fuel."
Potential to significantly reduce greenhouse gas emissions
Monday's flight only used 1,080 gallons of biofuel, so it hardly makes any impact on reducing the airline's overall greenhouse gas emissions.
However, if Alaska Airlines were to replace 20 percent of all its fuel supply at Sea-Tac Airport with the new biojet fuel, it would reduce the airline's greenhouse gas emissions by about 142,000 metric tons of CO2.
Such a reduction would be equivalent to 30,000 passenger vehicles being taken off the road for 1 year.
---
---
Need to assess impacts as well as benefits
The forest residual feedstock used to make the biojet fuel for the flight was sourced from tribal lands and private forestry enterprises in the Pacific Northwest.
Under the auspices of the NARA project, the collaborators not only produced the biojet fuel, but also evaluated the economic, environmental, and social benefits and impacts of harvesting forest residuals as the feedstock.
This appears to be in sharp contrast to some industrial wood-for-fuel schemes that are raising concerns elsewhere.
Following an investigation into the effect that "the rapidly-expanding wood pellet industry and rising biomass demand in Europe" is having on "vulnerable forests in the U.S. Southeast," the Natural Resources Defense Council has urged:
" … policymakers in both Europe and the U.S. to reform policies that require sound carbon accounting, toughens sustainability standards and caps biomass levels to ensure sustainable sourcing."