Google has overtaken Apple as the world's most valuable brand, according to BrandZ™ Top 100 Most Valuable Global Brands 2014. Google's brand value rose by 40% during the year to $158,834 million.
Since 2006, Google's brand value has appreciated by 324% and Apple's by 826%. Apple has now dropped to the second most valuable brand.
According to the BrandZ latest ranking for 2014, brands over all categories rose in value by 12% year-on-year. The authors noted how central technology has become in our society.
Valuable brands, regardless of region of origin or product category, "were best positioned to add value as North America, the UK and Continental Europe returned to strong economic health, even as the growth rate in the BRICs slowed," BrandZ wrote.
Chinese most valuable brands did well
Despite slower growth, China still managed to retain 11 brands in the BrandZ™ Global Top 100, compared to 12 one year ago.
The Chinese social network and Internet portal, Tencent, had the fastest-growing brand value over the last 12 months, which rose by 97% over the last year, and 52% the year before. Baidu, a Google-like search brand in China, saw its brand value increase by 46%.

US dominates most valuable brand ranking

Among the top 100 brands in the world in 2014:
50 are US based.
23 are based in Continental Europe.
6 are based in the UK.
20 are based in Asia.
Technology companies' brand values increased by 14% to $827 billion in 2014, representing nearly 30% of the top 100.
The top 100 brands added $310 billion in value in 2014, reaching $2.9 trillion, a 12% increase compared to the previous year.
Before the last year and since the financial crisis of 2008/2009, brand values among the top 100 increased by 6% or $125 billion annually.
All categories increased in value over the last 12 months, with apparel growing the fastest (29%). Of the 14 categories, ten experienced double-digit growth. According to BrandZ, "Brands across the economy have moved beyond recovery and into a period of new growth."
Of the top 100, only 18 lost value over the last year. While brand values expanded in the resurgent economies of the European Union and North America, in the BRIC (Brazil, Russia, India and China) countries they slowed. In the emerging economies, only 14 made the top 100 brands.
Top 10 brands 2014, plus % increase on previous year:
Google: $158,834m. 40%.
Apple: $147,880m. 20%.
IBM: $107,541m. 4%.
Microsoft: $90,185m. +29%.
McDonald's: $85,706m. +5%.
Coca-Cola: $80,683m. +3%.
VISA: $79,197m. +41%.
AT&T: $77,883m. +3%.
Marlboro: $67,341m. +3%.
Amazon.com: $64,255m. +41%.
Consumer behavior changing
The two key factors that drove the 12% growth surge in global brand values – consumer confidence and technology innovations – also created a number of the challenges experienced by some categories.
Although consumers were willing to spend money, even on expensive items such as cars and luxury products, they were chastened by a period of relative thrift and empowered by fast-changing technology. Mobile consumers, especially, changed their shopping and purchasing behaviors. Today they are purchasing more mindfully, waiting for the best price, and have concerns about the environment and health.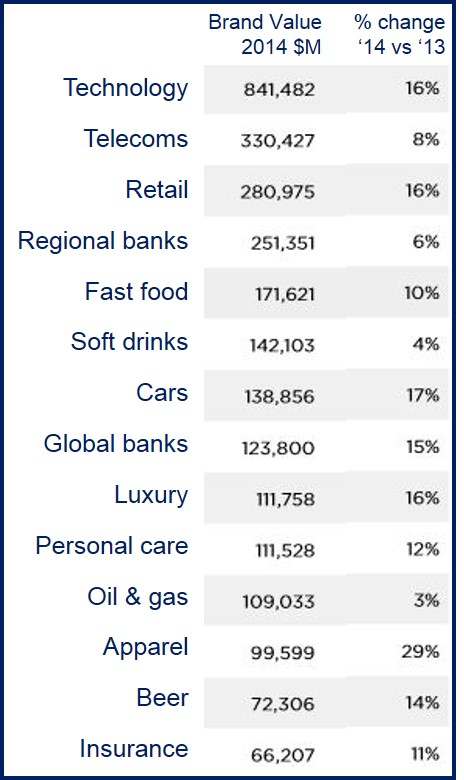 (Source: BrandZ)
According to BrandZ:
"Retail experienced perhaps the most dramatic impact, as consumers conflated the physical and online shopping worlds, expecting a new kind of convenience that delivers a wide range available online with the best prices and the immediate gratification of physical stores."
Aware that retailing would no longer be about physical shops alone, retailers invested less on their portfolios of locations and more on technology to make the online shopping and physical store experience a seamless one.
A brand is essentially the personality and image of a service or product that a business provides. It is characterized as being the features – slogans or logos – that make a product or service unique and different.
Value – Google is the most valuable brand